With American Thanksgiving just around the corner, you might soon have a little extra time – in between turkey dinner and scoring some Black Friday deals – to catch up on your reading.
The insurance industry is undergoing a period of rapid change. The insurtech movement, the Amazon effect, and the rise of artificial intelligence (AI) and machine learning (ML) are poised to transform the way we work and live – if they haven't already.
Get our viewpoints delivered to you inbox
Change can be unsettling and staying on top of how emerging technologies like AI work and their implications for our industry is almost a full-time job in itself. Thankfully, we have experts who can guide us through the peaks and troughs of technological innovation and help us understand the trends and what they will mean for us in our day-to-day lives.
"Your synapses store all your knowledge and skills as roughly 100 terabytes' worth of information, while your DNA stores merely about a gigabyte, barely enough to store a single movie download."
– Max Tegmark, Life 3.0: Being Human in the Age of Artificial Intelligence
What will the AI future look like? It's one of the most far-reaching, complex, and important questions facing humankind today. It's also a question that physicist and MIT professor Max Tegmark is uniquely qualified to help answer.
Nicknamed "Mad Max" for his unorthodox ideas, Tegmark has written two books and over 200 technical papers on a wide range of topics from cosmology to artificial intelligence. As president of the Future of Life Institute, Tegmark worked with Elon Musk to launch the first grants program for AI safety research with the aim that "we develop not only technology, but also the wisdom required to use it beneficially." This idealistic goal might strike a chord with insurance professionals. Insurance has always tended to attract individuals who are passionate about helping people and benefitting society as a whole.
"Welcome to the most important conversation of our time," Tegmark begins in the first chapter of Life 3.0. The author goes on to explore the practical and philosophical implications of the AI revolution. He offers clear and insightful perspectives on advances in AI from self-driving cars to machines that can beat humans at Jeopardy and solve CAPTCHAs intended to tell humans and machines apart. He also spends time debunking prevalent myths about AI that have long been perpetuated by the media and popular culture. Terminator, anyone?
While Tegmark doesn't shy away from the potential perils and pitfalls of AI, what is most striking about Life 3.0 is its optimism about where the technology is going. The development of AI "will offer amazing opportunities to help and empower people in the decades and centuries ahead," Tegmark enthusiastically writes.
If you're someone that is prone to fixating on the inherent risks of AI – an occupational hazard, perhaps, for anyone who manages risk for a living! – and worrying about machines replacing humans in the not-so-distant future, Tegmark's long view and refreshing optimism may provide some peace of mind. None other than Bill Gates lists Life 3.0 among his "10 Favorite Books about Technology," stating that, "Anyone who wants to discuss how artificial intelligence is shaping the world should read this book." We couldn't agree more.
"What's dangerous is not to evolve."

– Jeff Bezos
For several years now, rumors that Amazon will start to sell insurance have swirled and eddied throughout the industry. Opinions differ about the extent to which the online retail giant and digital customer experience leader would disrupt the market or whether Amazon could pose a serious threat to established players in the insurance value chain.
Whether or not Amazon ever decides to enter the insurance market, it has already had a lasting impact on insurance. The "Amazon effect" on customer expectations in our industry is real. The impact of online, on-demand "digital-first" leaders like Amazon is challenging traditional bricks and mortar business models across a wide range of industries – and insurance isn't immune. Even with a product as complex as commercial insurance, brokers and carriers are under increasing pressure to digitally transform their processes to deliver a better, faster, higher quality customer experience when issuing a policy or processing a claim. Arguably, this is the main impetus behind the current insurtech craze. To meet rising customer expectations, insurance companies are investing in innovation and cutting-edge technologies like AI with a new urgency.
Steve Anderson, author of The Bezos Letters, is no stranger to the world of insurance. Anderson is an authority on Risk, Technology, Productivity, and Innovation and has over thirty-five years of experience in the insurance industry. He holds a master's degree in Insurance Law. A well-known speaker and business and technology thought leader, Anderson was chosen as one of the original 150 LinkedIn Influencers and has over 340,000 followers.
In The Bezos Letters, Anderson offers a fascinating, in-depth account of Amazon's rise to become one of the world's most valuable companies under the leadership of CEO Jeff Bezos. By analyzing 20 years of Bezos' annual review letters to Amazon shareholders, The Bezos Letters reveals the risk-taking mindset that made Amazon the fastest company ever to reach $100 billion in sales, and Bezos himself the world's richest man.
Bezos' letters themselves are engrossing, but Anderson's analysis of them is equally so. Anderson distills the secrets of Amazon's phenomenal success into 14 principles that business leaders and entrepreneurs can apply to build their business and drive rapid growth. Anderson asserts that Amazon's success really comes down to why, when, and how Bezos takes risks. As Anderson illustrates, Amazon's massive growth hasn't come from playing it safe. Bezos' success as a leader, Anderson argues, has always been intimately related to his willingness to experiment and fail.
"As a company grows, everything needs to scale, including the size of your failed experiments. If the size of your failures isn't growing, you're not going to be inventing at a size that can actually move the needle."

– Jeff Bezos
For a risk-averse industry like insurance that is facing increasing competitive pressure from new market entrants and nimble insurtech startups, Anderson's insights on Amazon's success and the importance of using risk to one's advantage are particularly timely.
As Bill Pieroni, CEO and President of ACORD said recently, adopting a new attitude towards risk may hold the key to insurance companies' ability to innovate and stay relevant: "We as an industry are going to have to become more comfortable with taking risks, with failing fast and recovering but learning by doing."
Jeff Bezos' and Amazon's example, as engagingly told by insurance veteran Steve Anderson and partner in words Karen Anderson, may provide the roadmap that established insurance companies need to build an organizational culture that embraces failure as a necessary stepping-stone to success and growth.
Eyes Tired? Bonus Podcast Series for Your Listening Pleasure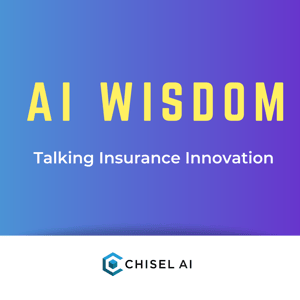 If you're tired of reading, tune in to the Chisel AI podcast series AI Wisdom – Talking Innovation in Insurance with host Ron Glozman. You'll hear insightful conversations with insurance and insurtech leaders including Abel Travis, Bill Pieroni, Ilya Bodner of Bold Penguin, Attila Toth of Zesty.ai, and others. Subscribe wherever you like to listen to your podcasts SoundCloud, iTunes or Stitcher.