We recently wrapped up another season of the AI Wisdom – Talking Insurance Innovation podcast and now it's time to share some of the insights garnered from our guests.
Many facets of commercial insurance are evolving, some faster than others. Change on several fronts has been accelerated by the impact of COVID. The effects of the pandemic have been felt across the entire insurance value chain disrupting traditional distribution channels and producers. Insurance agents, independent agencies, brokers, and brokerages are being forced to quickly adapt to the next normal.
As often happens in times of crisis, new opportunities are emerging and now is the time to refine business models, adopt digital transformation, evolve processes to better serve customers, and embrace new business scenarios.
Get our viewpoints delivered to you inbox
Ron Glozman, CEO and Founder, Chisel AI speaks with industry leaders about their proven experiences, lessons learned, and predictions as they drive tech modernization and refine business practices to align technology, people, and processes to capitalize on new business opportunities. We've summarized the best advice and key lessons for commercial lines brokers below.
A note before we begin: this series wouldn't be possible without the candidness and genuine love for the industry of our exceptional show guests. If you see them around LinkedIn or Twitter, give them a virtual high five.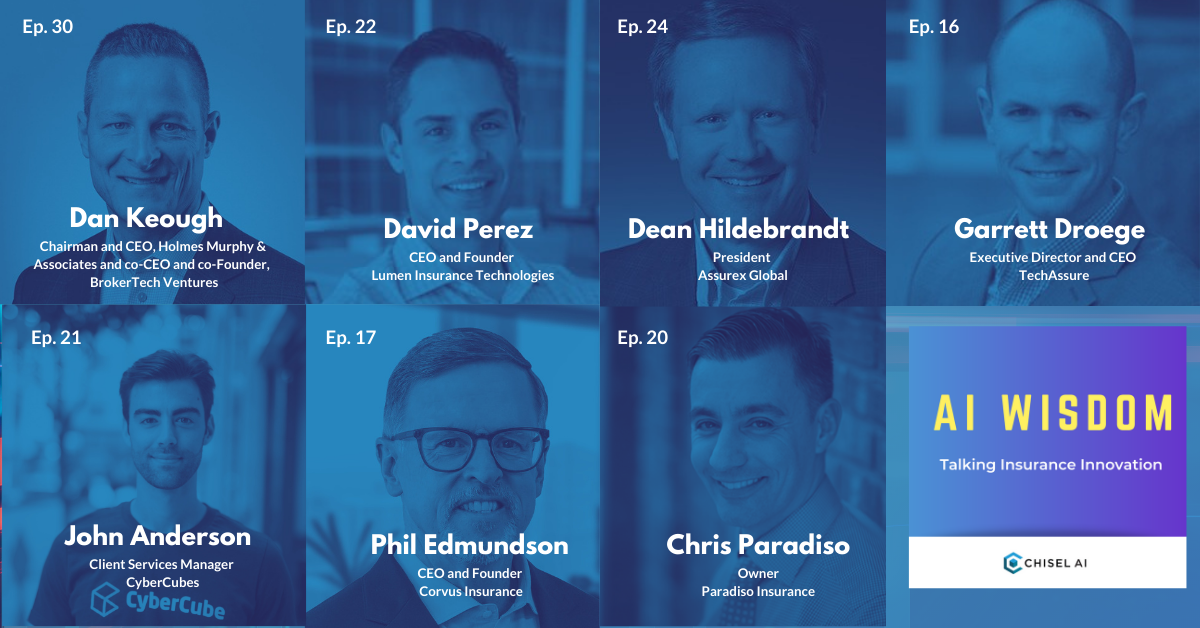 Find episodes on: Apple Podcasts | Google Play | Spotify | Stitcher
P.S. AI Wisdom – Talking Insurance Innovation has launched its 2021 season. New episodes will be available soon. Know somebody who should be featured? Send your recommendations to tstaniland@chisel.ai.
Lesson 1: Be Nimble
Dan Keough, chairman and chief executive officer at Holmes Murphy & Associates and co-CEO and co-founder at BrokerTech Ventures, shares strategies that will help commercial insurance brokers navigate a hardening market.
"As brokers our job is to make sure that we have the ability to manage expectations on all sides, primarily the customers," says Keogh. "Customers that pay the premiums, they have to understand the why behind the rate increases and to the extent where their losses contributed to it. It's easier to understand from a client, but not oftentimes do they equate good loss experience with increased pricing, particularly if you think about our industry, if there's a hard market, one out of every 20 years, most insurers and most insurance premium payers are used to having cheaper costs next year even though their exposures are growing. So, it comes down to managing expectations. The biggest challenge that we have is making sure that we understand the dynamics of what's contributing to the hard market."
"When you go into the economic downturn and what impact that may or may not have on our clients, I think for insurance brokers, we have to remain nimble. The pandemic added a significant amount of uneasiness, lack of clarity, and certainty of what it's going to impact our customers. In our industry, we follow the fortunes of our client, and so if our client's impacted negatively, ultimately, that will impact us at some point."
Lesson 2: Be Open to Change – It's Inevitable
David Perez, President and Founder, Lumen Insurance Technologies shares his experiences and insights on how insurance agencies are being forced to re-invent themselves to deliver a touchless digital experience, and his predictions for the commercial insurance industry including advice and recommendations for successfully delivering a digital customer experience in a post-COVID world.
"Connectivity in the insurance space is really what I'm excited about. I feel like carriers have so much data, agents have so much data, and connecting all of that is really what I think would be very, very powerful. I know that a lot of the carriers that we work with are attempting to try and make it a little bit more connected, whether it's through your agency management system, or just kind of open APIs and things like that, it's evident in the upload/download technology that exists today and that it's existed for a long time."
"Once you're open to the change, not being afraid to make the leap, not being scared to have those conversations and make mistakes, I think it could be a refreshing opportunity for the industry," says Perez.
Lesson 3: Understand Your Value
Dean Hildebrandt, President, Assurex Global gives us a sneak peek into what the future holds for brokers as they embrace technology advancements to deliver an exceptional customer experience and remain on the competitive forefront.
"You know, there are a couple of macro influencers that I think certainly influence how we see the world today," says Hildebrandt. "The level of transparency that we see around almost any transaction we entertain is just different than it was historically. So, you look at that transparency through the eyes of not so much a traditional insurance relationship, but maybe more through the eyes of like a transaction you would do on Amazon."
"If I buy something on Amazon, I know exactly what the market rate is for that product. I know what the product costs, I know what the delivery cost is, I know what any incremental cost associated with add-ons adds to the value or cost of the transaction, and I know the regulatory costs to the transaction. So inherently I know all of the underlying costs and all of the frictional costs and I know all of those components in real time, in an incredibly dynamic forum."
"I think it serves to solid reason that we'll see that coming in the insurance transaction as well in many cases, and so I think to that end, understanding one's value and understanding how the flow of value exists is absolutely paramount in serving customers today. Technology certainly augments a lot of that," Hildebrandt adds.
Lesson 4: Fortify Your IT Systems Against Cyber Risk
Garrett Droege, Executive Director and CEO of TechAssure outlines the importance of cyber insurance and how it plays an essential part in protecting a company's remote work force, valuable data assets and infrastructure.
Excellence in cyber risk management is a commitment to ongoing proactive measures that evolve rapidly. Committing the time and resources to understand your industry's risks, working with smart cybersecurity partners that are continuously monitoring the threat environment and tweaking, making changes along the way.
"Being open-minded and not arrogant is important," says Droege. "A lot of companies have this false sense of security due to arrogance and ignorance."
"Unfortunately, a lot of agencies and brokerages just rely on their agency management systems and a firewall," Droege warns. "That's a time bomb. It's just a really bad approach, especially when you consider that financial services are actually one of the most targeted sectors for cybercrime."
"I think the smartest companies are providing constant training to their employees, what to look for in phishing emails, how to do system tests on their home networks, ensuring their home Wi-Fi is secure, their devices are all up to date, security patches run."
"Fortifying your IT systems and protecting client data is essential for brokerages," says Droege. "It's not easy. You have to work with a partner who understands that space and how to do that."
Note: Since the recording of this episode, TechAssure has partnered with CyberCube, giving all TechAssure members access to CyberCube's Broking Manager. Broking Manager will allow TechAssure's member firms to quantify and explain to their clients the sources and financial impact of cyber risk exposure. The platform also produces reports that can be used to educate prospects and clients on potential sources of loss, recent and relevant cyber events, and peer-to-peer benchmarking.
Lesson 5: Be a Cyber Risk Trusted Advisor
CyberCube's Client Services Manager John Anderson explains the importance of cyber insurance, the key role that commercial insurance brokers can play in educating their customers on the perils of cyber risk, and the instrumental role of analytics in the cyber risk ecosystem.
"Brokers play an important role in helping their clients understand cyber risk," Anderson explains. "They're already quite embedded in their customer's organization and really understand some of the different operational features that their client has and the potential risk that the company has overall extending well beyond just cyber perils. There's quite a bit a broker can do here – they have access to people in a risk management function and information security and, even though they are speaking to both, they quite often find these two individuals are not speaking the same language and don't always see eye to eye about what's at stake for the organization. So, brokers really need to find a way to help bridge the gap and find a way to communicate cyber risk and the various cyber exposures that the organization has, using some kind of common lexicon if they can."
"We articulate that brokers hold the key to growth and that they can position themselves to unlock this growth as a trusted advisor at the centerfold of understanding cyber risk, more technical cyber terminology, some pretty complex insurance language, and understanding of broader insurance needs as well as through their partnerships with carriers."
"For brokers, they're in a great position and opportunity to take some of those learnings and work with customers to help them understand the connection between some of these more technical cyber security phenomena and the cyber policy language that's used to cover these potential perils," Anderson adds.
Lesson 6: Invest in Educational Tools for Your Customers
Phil Edmundson, CEO and Founder of Corvus Insurance explains how commercial insurance brokers can help their customers better predict, prevent, and prepare for cyber-threats.
Brokers either need to build tools themselves for their own team and for their clients or they need to partner with specialty insurers like Corvus for cyber insurance so that they have tools, whether they are video tools or FAQ documents or other explainers that help everybody understand what is covered, what isn't covered, and what has various sub-limits of coverage. "At Corvus, we've begun producing videos, just short videos from our underwriters that explain different components of a comprehensive cyber policy," Edmundson explains. "We have a 90-second video about business interruption and contingent business interruption that is covered under our policy."
At the other end, because of the increased reliance on IT assets during the time of COVID, medium and large-size organizations are buying more cyber insurance, and they are noticing more about the coverage differences, and they're buying broader policies.
"By using machine learning to make underwriting decisions for many of the accounts that we evaluate, we hope to provide value to everyone, including making our underwriters more productive and allowing them to focus their energies on the more important and difficult judgment calls, rather than the routine, repetitive exercise of much commercial insurance underwriting today."
Lesson 7: Digital Evolution is Paramount: Embrace Technology
Paradiso Insurance Owner Chris Paradiso sheds light on the characteristics, attributes and what it takes to be the insurance agent of the future.
Customer experience gives agents an opportunity to differentiate themselves. If agents don't focus on customer experience, with all the competition out there, and the ability to buy insurance within seconds from their iPhone or go online to just about everywhere, they'll squander that opportunity. "I believe in digital marketing because I believe it's a key to giving a great customer experience," says Paradiso.
"Being average in this industry, unfortunately, you could be average 20 years ago, but today with the rapid changes of technology, it's forcing average agencies to decline in value. If you're standing on the sideline and you want to make a change, the first thing you should do is pick up the phone and call agents who you feel are visionary, doing something different, challenging, maybe doing something that you don't like. Challenge yourself to call them and ask them about their strategies. Digital, data, and social is putting a stronger emphasis on relationship building."
Paradiso's advice is to invest the time to put yourself out of your comfort zone. "E-signatures, that may be super uncomfortable for you. It doesn't matter if it's uncomfortable for you right now. If you don't do it, how do you get the mail to the people? The mail is moving at a snail's pace because of COVID. So, why would we be relying on paper when we can rely on such an easy tool as e-signatures? My point on that is if you're not willing to challenge yourself and get uncomfortable, then you really should sell because your stock is not going continue to appreciate, it's going to depreciate because you're not embracing technology and change."
That's a wrap!
To listen to more AI Wisdom – Talking Insurance Innovation episodes featuring Dr. Robert Hartwig, Dr. Michel Leonard, Laura Gregory, Kirstin Marr, Bill Pieroni, Chisel AI's CTO, and other industry leaders, visit: