During InsureTech Connect (ITC) 2021, the world's largest gathering of insurance industry executives, tech entrepreneurs, and investors, Chisel AI's President and CEO Jason McDermott participated on a panel discussing "The Future of Commercial Insurance Underwriting" moderated by industry icon Mike Fitzgerald, Principal Insurance Analyst, CB Insights. Mike posed a timely and compelling question: "What are the traits that make a commercial insurer successful at any digital transformation?" McDermott's response was unequivocal:
"As I see it, it has nothing to do with the right technologies or skills – but it has a lot to do with courage. Yes, courage," said McDermott. "Don't get me wrong – change is happening now. Disruption is occurring. But in my opinion, we can do better. We need to be more courageous. We need change agents who want to lead their organizations on this journey of transformation."
Get our viewpoints delivered to you inbox
McDermott challenged the audience of commercial lines insurers and insurtech peers to be courageous and take a page out of the 'tech start-up' playbook: "Having spent 30+ years of my career working with technology start-ups, I've experienced firsthand how it feels to take a leap of faith and stand on the ledge of uncertainty. We've all been scared at one time or another. Change is a constant in our personal and professional lives, but for many it's not easy to accept or embrace change. So, we need agents of change – to provoke change, to act as the catalyst for change, and to emphatically guide co-workers and peers through the transformation. It takes courage and the right level of empowerment to deliver business-changing innovation."
View the ITC 2021 Panel On-Demand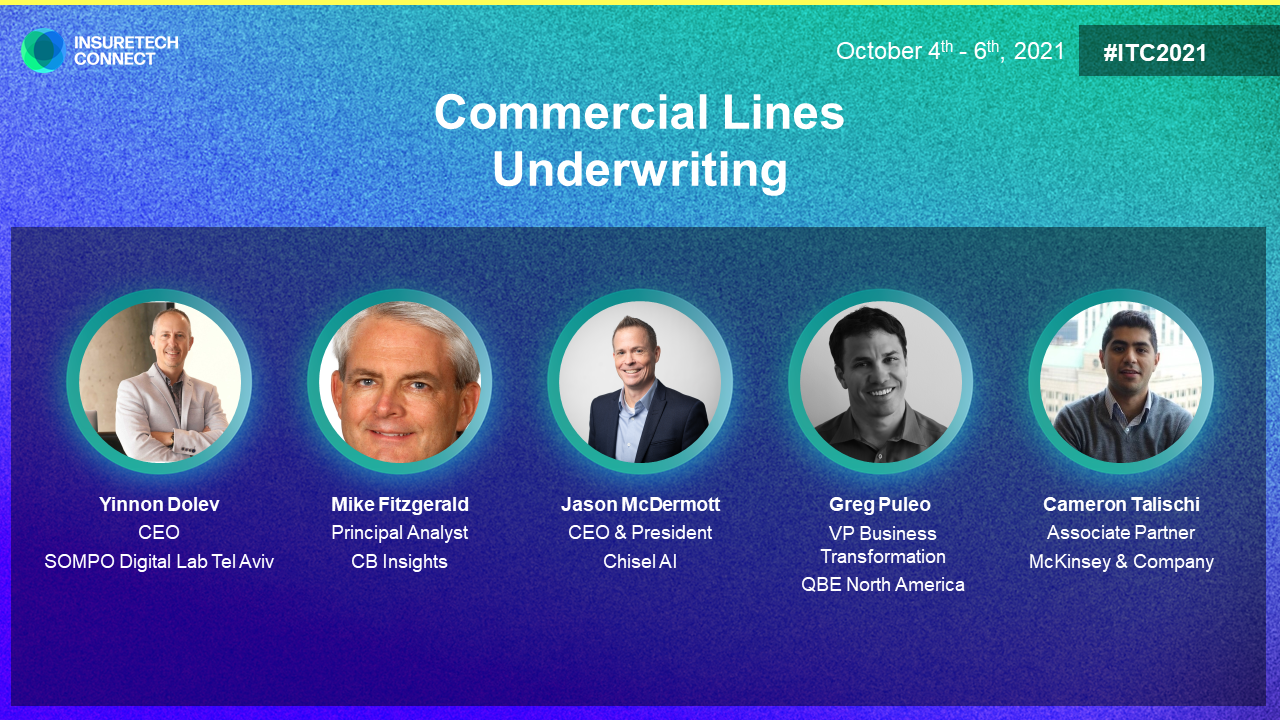 Missed the commercial lines underwriting session at ITC 2021? No worries. You can view the recording here to tune into the provocative discussion with senior insurance executives and analysts.
Championing Your Change Agents
McDermott's comments echo those of many within the commercial insurance industry and the insurtech ecosystem that serves it. We've been talking about the need for commercial insurance to digitize, evolve, and transform for many years, but are we moving fast enough to keep pace with changing market conditions and customer expectations, and are we building the right culture and change management practices to encourage bold thinking and mobilize meaningful innovation that can really move the needle for the industry?
"I think our digital aspirations need to be a lot bolder," argues Tina Osen, President, Hub International Canada. "We're comfortable with a year where we deliver solid single or low double-digit growth, and we think that's awesome. But I believe that, if we set these bold aspirations for our digital strategies, we can really see tremendous results. I also think, while it's important that we can get gains in efficiency and cut costs, we really need to look at digital as an enabler to generate new revenue that will drive numbers that are significantly stronger than we're currently driving as an industry."
Successful digital transformations are predicated on three factors: people, process, and technology. With technology as the enabler, it takes individuals with the grit and determination to thrust innovation forward within their organizations, rally others for the change ahead, and reimagine new approaches to drive tangible business outcomes. One of the greatest roadblocks to digital transformation in commercial insurance is a lack of organizational courage. In an industry comprised of professional risk managers, courage to challenge the status quo is not a natural strong suit; it must be purposefully cultivated and nurtured.
"Change management is a skill that few organizations have mastered," says Ryan Collier, Chief Digital Officer and President of Executive Lines at Risk Placement Services, a leading MGA and wholesale insurance broker. "A company with a strong, adaptive digital culture has a far greater chance of successfully transforming and continually growing than one whose culture resists change. To really do business differently, it requires a commitment and vision from leadership. Bold leadership done right inspires and builds trust. When people trust leadership and believe in the vision, they will lean into change rather than fight it."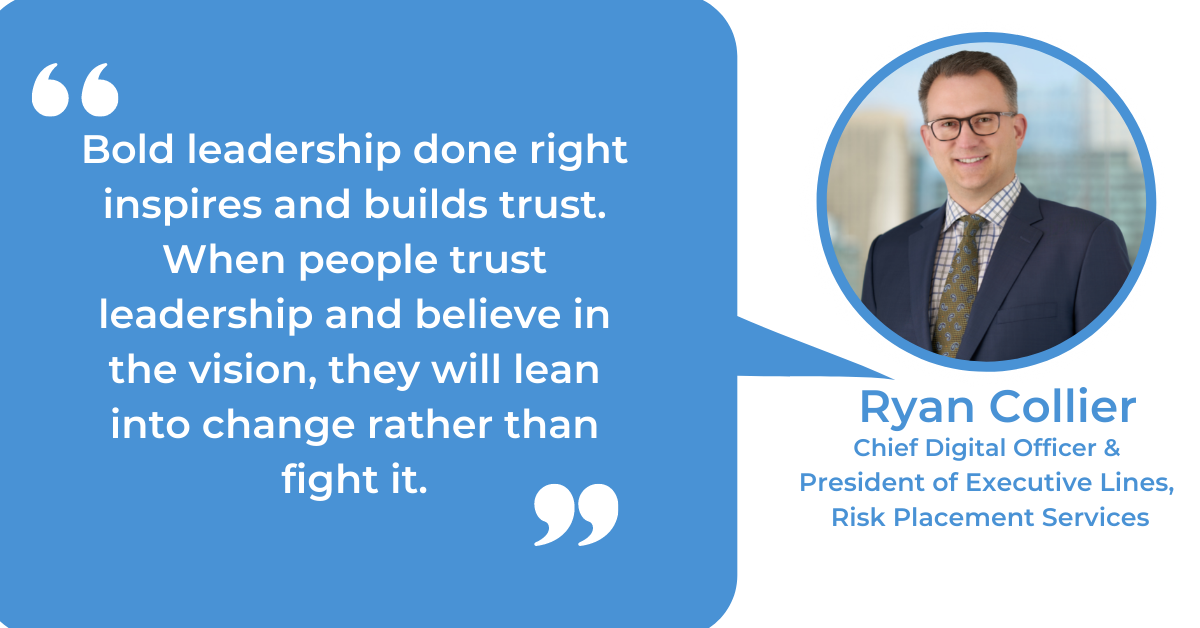 One thing that insurance companies can learn from non-insurance companies is that it's okay to fail," says Bob Frady, VP – HazardHub, part of Guidewire. "One of the hardest things I had to learn is that insurance people are rewarded for not being wrong rather than being rewarded for being right. It makes for some very risk averse people and processes. Sometimes you just have to spin the wheel and see what comes up. Just because something is different, doesn't mean it's bad. That's not something that comes naturally to many people in the insurance industry."
Brian Falchuk, bestselling author of The Future of Insurance: From Disruption to Evolution, TEDx Speaker, former Insurtech executive, and managing partner of Insurance Evolution Partners believes that this established idea of "That's not how we've always done it" is the "number one killer of change."
"You have to cultivate a culture where people understand that innovation is part of what is going to make us successful and so people feel safe taking risks, putting their necks out, and working on things that may take several iterations to pan out or may never pan out," says Amy Radin, author of The Change Maker's Playbook: How to Seek, Seed and Scale Innovation in Any Company. "If on the other hand, it's a culture of fear where people don't trust each other, and where people don't feel that management has their back on taking the risks that are inherent in innovation, they will not bring their best innovative selves to work."
Navigating by the North Star
Building and maintaining an innovative-focused culture within established insurance organizations can be easier said than done. Risk aversion is deeply ingrained in the industry, and in the DNA of many insurance professionals. It takes strong, clear, and decisive leadership to change a culture.
"First and foremost, culture is critically important, because it is the connection to your strategy and the DNA of the team," says Tony Fenton, Vice President of Commercial Lines Underwriting and Product, Nationwide. "Culture is what folks do when someone's not around, and truly creating that operational principle for the team to really strive towards the results, as well as have that North Star in terms of what you stand for as an organization. I do think that without the right cultural pillars, you probably don't have the North Star in terms of what you're aiming to accomplish.
Fenton continues, "If you don't have a strong culture, if you don't have the pillars, you probably don't have the North Star in terms of what are you strategically trying to accomplish and connecting each of the individuals into that strategy. One thing I've found over the years is all professionals want to see themselves in the strategic picture. Having the right cultural DNA against your operational strategy is the glue that really keeps the company moving forward."
The ability to sustain momentum is critically important because large-scale digital transformations don't happen overnight; they're multi-year initiatives that require a long-term strategic vision as well as the concerted effort of many different people at all levels of the organization who are on the front line of the transformation.
"I'm a big believer in bite-size pieces, fail fast, iterate, try again, prove it out, and then expand. So, you garner that success, the momentum, and energy to move it to the next level," says Hub International's Tina Osen.
Empowering the Doers
"Change management truly is an organizational movement; you can't do a top-down change management or a bottom-up change management. You must do them both together," Travis MacMillian, Chief Business Officer, Xceedance believes. "First, you have to have leadership that's completely on board with a transformational change, and they're sponsoring it, and they're aligning it to their strategic direction to say, "Organizationally, here's where we want to go."
"At the same time, they need to surround a group of folks that are the doers," McMillian explains. "They're the workers doing it every day, and get them to embrace the vision, and how they can see the transformation really impacting their roles from a bottom-up standpoint. And when you attack it from both vantage points, the outcome there is successful. If you do one or the other, you have the potential of failing, from my experience. So, it has to be attacked from both ends and I think that when it's done right, I think that companies will be successful. The other thing that I would lay out there is that you can't take that journey alone."
"While digital transformation feels like a technology initiative, really, it's not a technology initiative. It's a business initiative that impacts the entire culture," says Abel Travis, VP & Head of Fundamental Underwriters, a division of AF Group. "You have to have change agents, plural, and not just one owner for all the digital transformation. Because it's something that is going to have implications for folks all across the entire enterprise, you have to have change agents in each of the different areas across the enterprise. It's necessary to have a business change agent and a technology change agent."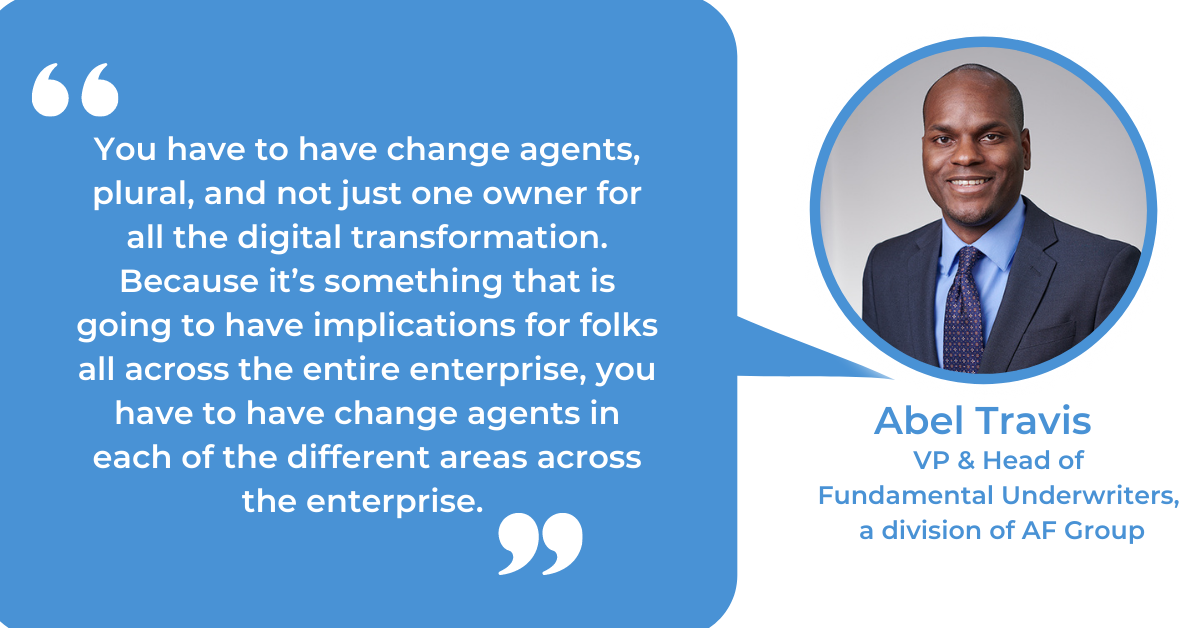 "I think probably one of the hardest things when you're doing big change management projects is you have to put your best people that are influencers in the organization on these change management projects. That can be hard to execute because those are the folks that are having such an impact in the day-to-day," says Tina Osen. "But those are the individuals who can identify the business problems that are going to arise, who have that influence through the organization, and who really can create change in a way that anticipates some of the challenges that will come at you."
Brian Falchuk stresses that you need to think about who is in the room when it comes to planning and executing innovation initiatives: "It takes those teams having the right mix of seniority. If you have really senior people in there, chances are really junior people, especially if you don't have an 'obligation to dissent' kind of culture, they're going to clam up, and they're going to be scared to talk. So, you need to think about, culturally, how can you make sure the people in that group are willing to say things. But then you need the right sort of sponsorship…. You don't want your C-suite executive sitting on them to squash them. You want someone who recognizes, 'My role here is to help this move forward,' and to trust that this group of people across lots of different roles and functions and levels in the company really put in the effort to understand this problem and to design a solution."
Amy Radin believes that a key element of empowering change agents is investing in education and skill development: "You can't just wake up in the morning and say, 'Okay, we're going to be innovative and now go be innovative.' It really requires unique skills and capabilities. Part of empowering is making sure that you're helping people develop the skills and that you're investing in the capabilities that they need."
"Every time when we have failed on change management projects, it's usually tied to two things, poor communication or poor training and education," Osen says.
Fortune Favors the Brave
To achieve business-changing innovation, insurers need to find ways to embolden change agents and embed courage into their culture so that permeates every level of the organization from top to bottom.

"You can't be afraid to try something new," says Xceedance's Travis MacMillian. "We've done things as an industry very traditionally. Step out, be the change agent, be the leader, and push the boundaries. And again, you may fail. Fail fast, correct, try again, until you're successful. And that's a repeatable process."

"Forward-thinking insurance organizations that embrace innovation, and successfully transform will be the ones that have a change agent at the helm, who have willingly raised their hands to inspire and influence others to change," Chisel AI's Jason McDermott adds. "Make no mistake – it takes courage to step up to the challenge and accept risk. It's not for the faint of heart, but so rewarding – it will challenge and test you. I promise you that it will be personally and professionally fulfilling and enrich your day tenfold when compared to the alternative of doing nothing and accepting complacency."
Watch this Space
In the coming months, we'll dig deeper into this topic to define the characteristics of an effective change agent and discuss practical approaches insurers can use to identify and empower these individuals to drive meaningful innovation within their organizations. Stay tuned!