Jason D. Cass is a thought leader, speaker, author, agency owner and champion for the independent insurance industry. He has earned a reputation for being one of the most important – and opinionated – voices in insurance. We caught up with Jason to ask a few questions about the ongoing impacts of COVID-19, customer-centric insurance, and what lies ahead for the insurance industry.
Jason, you've been an independent agency owner for going on two decades now. How has the business of selling insurance changed since you started and how is the industry progressing when it comes to delivering a better customer experience?
When I first started as an agency owner back in 2001/2002, the phrase "customer experience" was not even known or mentioned in the insurance industry. It was what we all picture it being like, similar to situations today when technology doesn't connect, and companies don't integrate with everything and neither do our vendors. You have to realize that the word "integration" and the term "API" weren't known at the time as they are today.

I always say that the clients in a weird way are easier to work with today than when I first started. They no longer come in demanding that they have to sign applications. They're okay with giving us their social security number over the phone and they're okay with letting us send them a link for them to fill out a form to give us information. Clients are now okay with us texting them back and forth, they're okay with electronic signatures, they're okay with receiving all of their documents and their ID cards through email and even now with COVID, they are getting towards being okay with virtual meetings.
Get our viewpoints delivered to you inbox
For example, I set two commercial lines meetings today, just collecting information, where I offered that we could do it on GoToMeeting and they're like, "Yeah, that'd be great." You didn't get that even a year ago. So, the point is that the industry is progressive.

There was no such thing as customer experience when I first started, it was only customer service and now you don't hear customer service talked about, it's the customer experience. Think about how those two phrases have switched positioning in terms of their importance.
Then, in terms of how easy clients are to work with, they're a lot easier to work with today. At the same time, I still do have those who are not so easy to work with and, as business owners, we are really strapped right now to be able to understand what we have to do to support both the new-age customer and the legacy customer. The new-age customer wants everything done electronically, then there's the in-between customer who still wants that personal touch, still wants to have their hand held but wants to have the technology as well.
I don't know if businesses have ever been at a point where they have been so burnt out: We have to deal with this in our marketing and our sales, we have to understand that there are so many different marketing avenues to target these different types of clients. Whether it's billboards, the telephone book, which is fading but it's still there, or being on Google, being on Facebook, being on LinkedIn – these are all the different areas that we have to be involved in. For example, if I want to be known as a personal lines agent, I have to be involved in certain platforms; if I want to be a commercial lines agent, I have to be involved in other platforms.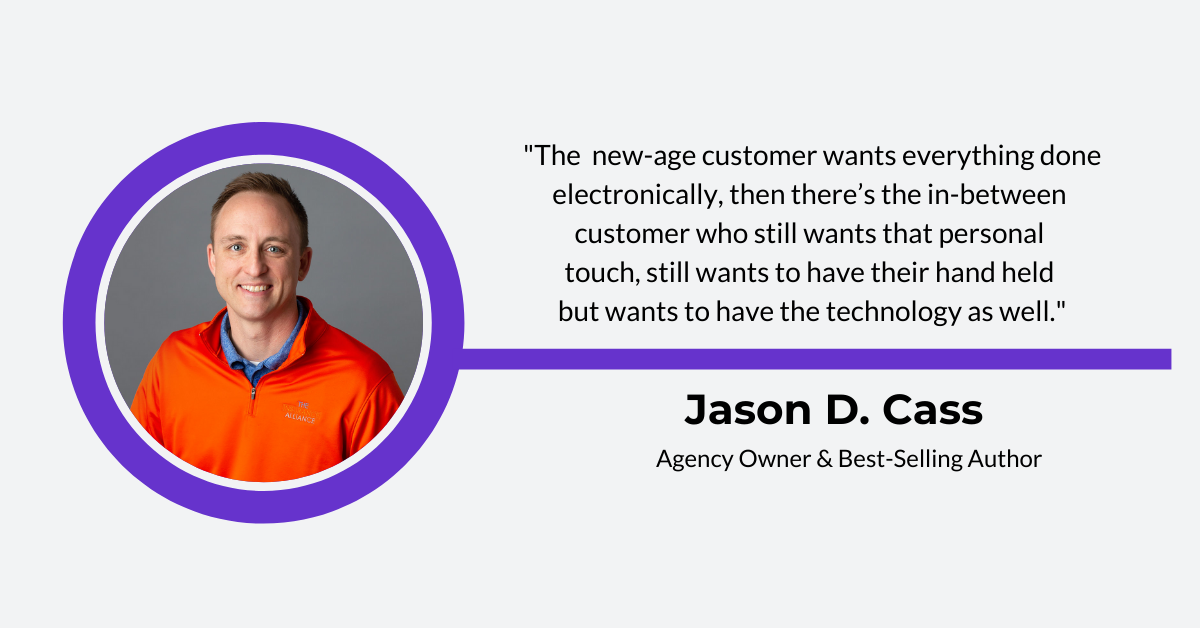 The COVID-19 pandemic has disrupted the entire insurance value chain including tr

ad

i

t

i

o

n

al d

i

str

i

but

i

o

n

cha

n

n

e

ls a

n

d producers – a

n

d some of the cha

n

ges we've had to adapt to over

n

i

ght are l

i

kely to be perma

n

e

n

t. What w

i

ll the

i

n

sura

n

ce age

n

t of the future look l

i

ke post-COV

I

D?

The insurance agent of the future is dictated by the customer and the client that we serve. It's what the customer of the future is going to subscribe to that's important. If they go back to doing everything the way that it was, then that's what we're going to do, but we know they're not. So, we understand that the customer is now okay with having somebody shop for and deliver their groceries, they're getting used to being able to do things online, they're having to use apps to get reservations and order food from restaurants. They're getting used to these things that are, as I said before, making it much easier for us to do business with the customer.

Not only is it easy because we can just sit here and simply send an email, but it also has to do with the fact that these are means of communication that we now can document in our system, we can be more efficient and we can track our communication better. We no longer have to go to a yellow folder and look through it and try to find out when the last correspondence was.

Clients are now going to be okay with virtual meetings. You're going to see video really start to pick up steam. I believe, in the next 12 to 18 months, video will be huge, and I would have thought that would happen 5 to 10 years from now. In 12 to 18 months, the majority of agents are going to be doing some type of video proposal or you're just not going to stand out. It used to be that if you did video proposals, you stood out, not anymore. Now, if you're not doing video proposals, you will stand out.

I believe agents will be doing more things electronically. The bottom line is that the customer is simplifying their life, which is allowing us to simplify ours. I also believe, regardless of COVID, that AI technology will be used.
What do agents and brokers want – or need – from their carriers during the pandemic?
It's hard because of the pandemic. I hope this situation helps agents and brokers learn how to work better remotely. That's where carriers need to understand that investing in technology for the agent and investing in technology for the customer is beneficial.
There's a lot of talk about delivering a frictionless or touchless insurance buying experience, especially now. What would a frictionless insurance buying experience look like, and what changes are needed in terms of people, processes and technology to enable it?
A frictionless insurance buying experience is almost the place where insurance transforms into a different thing. These buying experiences are done every day but when it comes to the independent channel, it will be transformative, and I think it will lead to many different verticals inside the insurance industry.

When we talk about the frictionless, touchless buying experience of insurance, it's basically them going onto my website and getting a quote from the carriers that I represent, selecting one of them, going and looking at the coverages and purchasing it, and then getting service from my VA's or from a call center.

Now, somewhere in there you're going to have virtual meetings, which we're getting used to now. You are going to have online chats, you're going to do video proposals, all built into that experience that is going to allow that person to move through the funnel to answer any questions that arise and, if they can't, they can always reach a live agent. So, there'll be different things like that which we're seeing now.

What's important to understand, when we are thinking about the post-pandemic world of insurance and what it's going to be like in two to three years, is that it's actually going to be nothing more than where we should have been in five to ten years. Think of the last few years where we've seen the early adopters come in and do things that everybody else will be doing in five to ten years. The pandemic has sped a lot of that up. So, what it is going to look like in a year or two is what those early adopters were doing maybe a year or two ago. It may not be that much more transformative than it already would be. If you work with new technology, you already know the stuff that's going on, but if you work with Excel spreadsheets and have been for 30 years, you may not know about all this stuff. So, I think that's important to note.
It's going to take technology to create a frictionless buying experience and it's going to require integration. Companies are going to have to integrate directly and allow my customer to get that experience. Now maybe they go online, but I don't want them to go to a carrier's site and then do the quote, and then I get credit. I want them to be able to offer what is called quote, bind and issue, QBI. Many agents are against it, but it's inevitable, it's going to happen. It's going to happen, and data is going to tell us who wants it and who doesn't need it.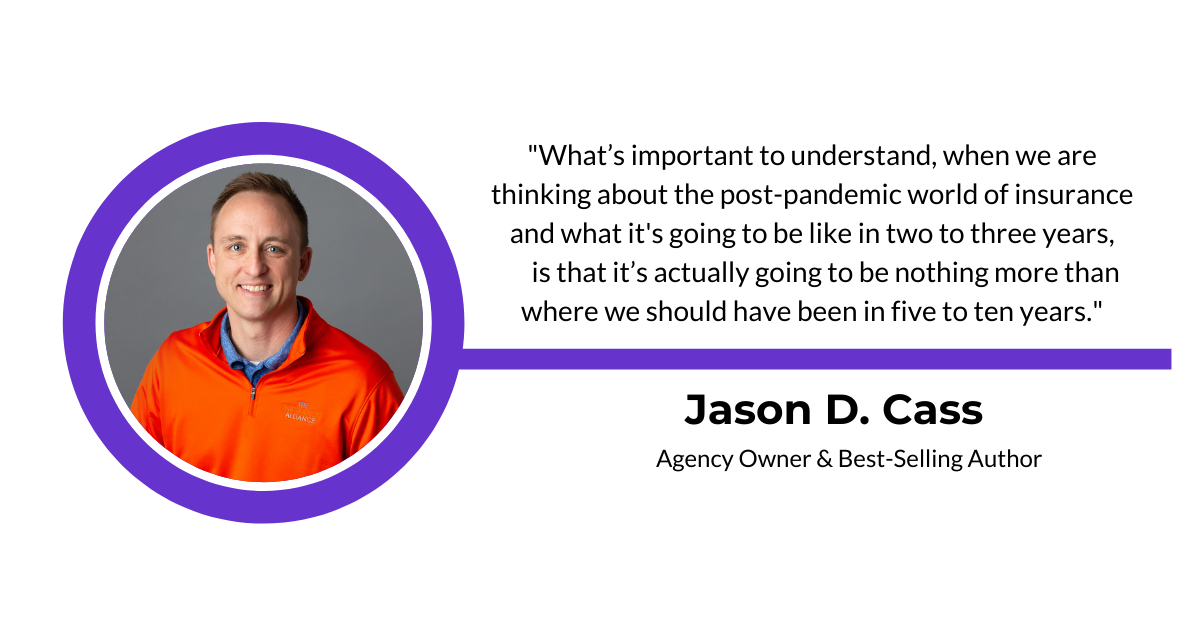 The insurance industry is increasingly focused on attracting new customers including millennials and Gen Z. If you had to give the industry a report card, how well are established insurance companies doing when it comes to building digital strategies and products that are relevant to the needs and buying behavior of millennial and Gen Z customers?
I think some of the big-time companies, like the State Farms, are providing a service that's pretty good to millennials and to Gen Z. They are making things easy by having a mobile app and making it so they can make online changes, etc. I think the independent insurance industry is just terrible at that. I blame and beat up carriers, but it's really not the carriers' fault. If you really think about it, it's the fact that you have carriers who have stepped out of that role because that's the role of the insurance agency, right? The role of the insurance agency is to take care of that service and so I think that's the reason why the independent agencies are not really great at it, and that doesn't really feed well to the millennial.

That's the conundrum that companies have as well. If we still need this agent channel, yet we have these millennials who don't want to go to the agents, and they want to come directly to us, by us not having that system, we're losing it. I think that, as agents, that's where that old mentality holds us back, and lets us know that we need to do business the way they do business, and the agencies that are going to succeed are going to need to find the way that their customer wants to do business and do that.

This is where it's starting to wear down agencies. The agencies are having to support so many different types of service. Rather than just having one process, you need a process for phone, email, Facebook – there are so many different processes to follow and that's really, really hurting right now. So, as far as companies, I think that that's kind of the limitation. I think the bigger national brands have got it down a little bit more. I think that's why they're attracting that type of customer. I also think that you'll hear people say I'm with GEICO or Travelers or Nationwide and they're young people because they used to live in cities where you usually find the big companies. Big companies are going to be successful in the big towns. If you go out to the small areas, independent companies are competitive out there.
The industry faces a looming recruitment challenge with 50% of insurance professionals set to retire over the next few years and millennials choosing other professions they deem to be more progressive, challenging and fun. What can the industry do to entice new talent, and do think technology can play a role in bridging the gap?
There's no better industry in the world than the insurance industry. I came into it at twenty-three and what attracted me was being able to help people. Here's the key, I like being able to help people with things that people won't go find themselves and not many people want to try and help them with. I'm even that way as an insurance agent, I want to go find a client that other agents don't want to help.

I found a career in insurance because a lot of people don't want to be in insurance because they think it's boring, and no one wants to learn about insurance, so I thought, well heck, if I'm the insurance person, people are going to have to come to me. I don't know why, but deep down inside, that just really excites me and gets me going. I also knew that I could work for 30 minutes on a policy for an auto and home, and I could make $400. That was pretty interesting to me, knowing that I came without a college degree and that I was able to make money as quickly as I was. In my third year, when I was 26 years old, I cleared $100,000. That was huge for me back in 2005 and that was huge for me at that age. As far as a real job, I had never made more than $30,000 to $40,000. And here I was making this type of money in this profession, with no education, just learning it.

A lot of people don't understand the flexible freedom of being an insurance agent. It's really important to understand how this career has allowed me to have flexible time, financial freedom, be a contributor to the community, an empire builder and mentor. I think that when we preach that correctly, when I stand up or other agents stand up, and we explain who we are, and that we are not embarrassed to say that we're in insurance when we're doing Facebook ads and YouTube ads. I think companies are investing in those types of technologies, and those types of things inside their agency and they're helping us make it a better place to work.

There's a lot of other things I think that we can do in terms of the way that we pay new agents in this industry. I believe that they're paid in a way that doesn't help the agency and it doesn't help the agent. I also think education is really, really terrible. We've got to use our education in this industry rather than just relying on the way it's always been done. The way it's always been done is actually not the way that it's being done now.

As far as the industry losing 50% of insurance professionals, that's okay because when you look at the statistics of agents in insurance, we're always at the bottom of the list, by the car dealers and lawyers, as professions that are disliked. But actually, we are the one profession that is there at your most critical time. When your house burns down, there's no one you love more than a company writing the check to put you back to normal. We, as an industry, need to help new talent understand insurance, who we are and what role we play, and understand that insurance is the most important thing in the world because nothing happens without it.
In your book

Customer Service Is Just Foreplay,

you write that "One of our greatest human limitations is our inability to see things for other than how they are." One example you give is how before Cirque de Soleil, no one could have imagined a circus without trained animals doing tricks. So, w

hat do you think the insurance industry will look like in 10 years? Does insurance have some tricks up its sleeve that we can't imagine or haven't seen before?
The short answer is, of course it does. I won't go on too long but, yes, data, people, and process are what is going to change the game, and everything that I will talk about in the next ten years will be about data, people, and process for numerous reasons. When we talk about seeing things that no one could have imagined, it's data, people and process that will help us see those things.

Data is going to help us see things that we never saw possible. Data will tell you exactly how much time your senior account manager worked on an account and how long they were working on that account for the policy with Nationwide versus the same policy with Liberty Mutual. Data will tell us who in our office is more efficient with certain carriers than others. These are the different data metrics that are going to help us change our business, they're going to help bring back the connection between agents and carriers. In the 80's when we needed this technology to hold our data and make it smooth and we couldn't get the agents to talk to the carriers or the carriers to talk to the agents, the Agency Management System (AMS) came right up the middle and they made the connection.

When we start creating data and we start housing our own data, we actually take the AMS out of the middle and put them out on the side. We're all on a level playing field. Now we can change the game and create customer experience that takes away silos. We'll be able to open up the customer and see their total customer experience from the time that they first came in with us, how they're doing with us, how they're doing with the carrier they're with, how the claims are going and everything is all inside of one place. This can be done when our systems are more open and we're allowed to share data, that is a major thing.

What are we going to see as far as companies? We're going to see companies who are going to get out of the underwriting department, you're going to see companies that are going to start saying, we are only going to take a commission of let's say 25% of the total premium, and we're going to push off the claims to an independent source, we're going to push off the underwriting to reinsurers, and all we're going to be is the marketing company out there that is simply taking 25%. That's very different because, if you think about it, that means that sometimes, the old-fashioned insurance companies can become the animals. No one could have imagined a circus without animals until Cirque De Soleil and no one can imagine an insurance industry with less companies.

I think that in a perfect world, reinsurance companies want to go down and want to meet me and the consumer at a different level and what's caught in between it are these old-fashioned insurance companies. Think about insurance agents who are slowing down the game and not creating great customer experiences: Somebody leaves GEICO, goes to an insurance agent, and runs into wood paneling walls, warm handshakes, face-to-face conversations, a stuffy office, and they leave and they go right back to GEICO or back to one of our competitors because they didn't get the experience that meets the needs of the customer today. Insurance companies hate the old archaic systems because they're losing customers or they're not able to gain them because of some of their inefficiencies and the ways that they're doing business. So sometimes, those carriers would hope that those old-fashioned companies would just go out of business because they can't find them because everything is online, and what they're doing is they're keeping the market share. Once there are fewer of these old-fashioned insurance companies, I think that's when you're going to start to see really big differences in the ways that insurance companies do business.

I also believe in marketing, and knowing you are marketing to your target niche. Almost every agency has to be niche going forward. It doesn't have to be an industry niche, it could be preferred or non-standard, or personal lines or commercial lines, or small accounts or big accounts.

Understanding our customer, understanding our client, and knowing that the companies are going to probably be eliminated by their own reinsurers, I would see more reinsurers in the future. Currently, I think there are only about five to ten in the world. I would estimate seeing more of those and less companies.
---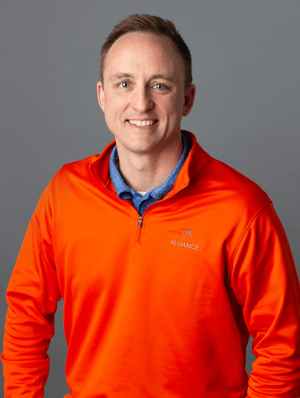 Jason D. Cass is a thought leader, speaker, agency owner and champion for the independent insurance industry. He is the founder of Agency Intelligence (AI), a place where insurance agents and agency owners can connect, share knowledge and work together to improve their agencies and move the industry forward. Jason hosts two major insurance podcast series, Agent's Influence and Agency Intelligence where he talks with those that influence the insurance industry and connects with independent insurance agents all over the country. He is also the author of the Amazon Bestselling book, Customer Service is Just Foreplay, and is working on his second book titled, The Great Separator.