Managing General Agents, or MGAs, are an integral – if sometimes misunderstood – part of the property and casualty insurance industry. We sat down with MaryKate Townsend, CAIB, Manager & Senior Underwriter, Pacific Marine Underwriting Managers Ltd., and President of the Canadian Association of Managing General Agents (CAMGA) to discuss the evolving role of MGAs and how brokers can benefit working with an MGA. MaryKate shares her path to insurance, how technologies like GPS tracking devices and AI are transforming the insurance buying experience, and what the future holds for the MGA and delegated underwriting sector in Canada.
MaryKate, tell us about your path to insurance. What attracted you to the profession?
I was completely unaware of the opportunities that lay ahead for me in the insurance industry. At the time, I had a need for stability, a Monday to Friday, 9 to 5. I could have never imagined that I would be where I am today in my career. More than anything, I wanted to set a good example for my daughters. It was my intention to show them that taking chances, hard work, and dedication are the foundation of success. That involved challenging myself to step out of my comfort zone and taking a chance to learn something entirely new, writing exams and obtaining designations, and continuously gaining experience and knowledge with every opportunity along the way.
Get our viewpoints delivered to you inbox
Congratulations on your recent appointment as President of The Canadian Association of Managing General Agents. What's the outlook for MGAs and what's on the agenda for your tenure as President of CAMGA?
MGAs in Canada have been seeing exponential growth over the past few years. CAMGA has grouped the sector under one umbrella with the goal of adding more solidarity to the industry like we are seeing in similar markets around the world. The UK, US, and Australia have all seen their sector grow as more solidarity is added.
The first goal is to educate and bring awareness to brokers about MGAs. We are an extension of your usual carriers and serve as specialists and experts in our field. We are not just a home for substandard risks or last choice markets after you've exhausted all efforts with your usual carriers. We have dedicated underwriters and offer many solutions for hard to place or high risks, including special or unusual risks, and perhaps smaller specialized/stand alone risks such as pleasure craft marine. Some brokers may not be aware that MGAs exist. We are here to assist and offer their clients an insurance solution.
The second objective is a regulatory one. There is a vacuum and misunderstanding about how MGAs operate and under what rules. We will actively be discussing with regulators, and the industry, how to formulate base standards that MGAs should meet.
The third is education and professionalism. We have created a CMGA designation which is specifically tailored to MGAs and those wanting to get into our sector. This course is operated by the Insurance Institute and dives into the foundations of MGAs: delegated underwriting authority agreements, markets, loss ratios, and actuarial modelling. We have also created and adopted a Code of Ethics for all CAMGA members.
My goals as President are to shape a rules-based framework that MGAs will agree to follow, promote the CMGA curriculum, which empowers people within the sector, as well as outside the MGA world looking to join it, and highlight the value MGAs offer brokers and carriers alike.
In a recent interview with Canadian Underwriter, you pointed out that there is limited capacity for certain commercial lines and types of risk, noting that carriers and MGAs "are just being really careful about what they're writing, and really having to be thorough in their underwriting." How are carriers and MGAs addressing the capacity issue? Are you seeing any creative approaches to finding coverage for policyholders?
It's always challenging to match appetites for capacity between carriers and MGAs. With the above-mentioned initiatives, CAMGA is confident that this will become less so. Our goal is to build more confidence and trust between customers, brokers, carriers, and MGAs. This will build the value of our offering and will lead to more confidence to place business and capacity through MGAs.
CAMGA has introduced BRIDGE-MGA, an up-to-date database that brokers can subscribe to, listing our MGA members' products and the classes of business they are currently writing, as well as intake/submission information. We are striving to ensure that no broker has to give up finding a market for their client and their specific risk once they have exhausted the MGA marketplace through Bridge-MGA.
Earlier this year, we curated our second annual crowdsourced eBook Commercial Insurance Underwriting Priorities 2021 and Beyond. What's your take on how commercial lines insurers and MGAs can make their underwriting processes more efficient, profitable, and responsive to customers?
From my interactions with brokers, I consistently hear the need for insurers to focus on thorough underwriting and operating efficiencies. Our clients are the brokers; they too are looking for responsiveness. What insurers can do is provide insurance solutions for complex risks, expert advise, quick response times for quotes, and timely processing of documents. This will allow our clients to focus on servicing the needs of theirs. Knowledgeable, superior, and trained underwriters with skills for assessing a risk to determine an appropriate solution, especially in a specialty market, bring tremendous value to our clients, not to mention a more profitable portfolio for all stakeholders. Thorough underwriting is necessary for profitability, and to maintain stable loss ratios. Data and analytics go hand in hand to track the results of the underwritten business. Measuring the results allows an opportunity to identify an issue where a certain line of business may not be performing as well as expected, therefore action can be taken to mitigate further deterioration by adjusting wordings or introducing deductibles, or rates as necessary.
I may be self-serving in my answer to this question, but one of our goals is to drive home the point with carriers that their most profitable and efficient deployment of capacity in certain classes of business is through MGAs. A mature and rules-based MGA network offers carriers the vehicle to provide coverages for risks that they might otherwise not consider or have a very difficult time pricing appropriately due to not having the technical niche underwriting expertise that we provide. MGAs are not generalists; our value comes in the form of surgical and innovative underwriting processes that carriers could benefit immensely from.
The pandemic disrupted the entire insurance value chain including producers and traditional distribution channels. From an MGA perspective, if you had to give the industry a report card, how well have insurance companies responded to the ongoing challenges of COVID-19 and a hardening market?
A+ for MGAs, who have proven their ability to provide creative solutions throughout the pandemic for unique situations that might otherwise not fit the traditional box with most carriers, such as adapted concert events at a drive-in theater, for example. Many carriers have restricted their underwriting appetite as the industry moves in the direction of a hardened market, therefore limiting options available for brokers to place business for their clients. As a result, MGAs have been seeing substantial opportunity to showcase their product lineup and expertise in specific areas.
MGAs, by their nature, are extremely nimble and innovative, not just from an operational angle but from a product and service angle. I can tell you the vast majority of our members did not have to make significant adjustments over the past 18 months. So, I would rate our sector A+.
What do brokers look for or need from their carriers and MGAs in a challenging insurance market?
Brokers are looking for complete (and affordable) insurance solutions for their clients. Brokers often approach MGAs as a last resort once they have exhausted all efforts with the traditional carriers, and they are left without a suitable solution for their clients' insurance needs. Dedicated underwriters focused on complex or high value risks, and in some cases, only offering one line of insurance allows MGAs to become specialists in those classes of business, thus allowing us to exercise our skills to determine a solution to meet the needs of the client. Consistent underwriting practices, efficient service levels and stability bring value to our broker clients. Brokers are consistently facing challenges to secure insurance for hard to place risks or unique or high value risks, and with the hardened market they are finding fewer insurers willing to consider it at all. The willingness of MGAs to collaborate with brokers to find solutions, presents opportunities for MGA's to really showcase their value in these challenging times.
MGAs provide many things that brokers are looking for: expertise in niche and harder to place policies, and speed in quoting and binding. Not every risk falls into an established underwriting box; we create boxes specifically designed for those risks, which equates to better terms and pricing for the brokers' client. We innovate coverages that either are not common or don't fit well with larger carriers.
Looking to the future, what skills do modern carriers, MGAs, and brokerages need to invest in to be able to provide the kind of frictionless digital customer experience that policyholders are demanding?
Forward thinking and problem-solving skills are crucial for an insurance professional and particularly for an underwriter. But equally important are communication skills. Whether written or verbal, the need for clear and concise exchanges of information is paramount. Carrier portals or AI as a means of exchanging data between carriers and brokers allow brokers the ability to self-serve quote and bind, meaning continuous investments in these technologies will be necessary for the carriers to evolve with the needs of the brokers, based on the demands of the policyholders.
If you had to pick one technology trend that will fundamentally transform commercial insurance over the next 5-10 years, what would it be?
A trend that we are seeing in Pleasure Craft Marine and Commercial insurance, specifically in Construction, is the use of GPS tracking devices to mitigate the effects of theft and possibly allow for the equipment to be successfully traced and returned with minimal damage. We are also seeing AI deployments as a trend (see answer to next question).
The industry faces a recruitment challenge with millennials choosing professions they believe to be more progressive, challenging and fun. What can insurers do to entice new talent?
Insurance is a very social industry. (Pre-covid of course), you would often find insurance professionals coming together at Provincial or National association conventions, trade shows, conferences, and young broker events. Encourage new hires to get involved with Industry Associations. The experience of meeting people from all realms of the insurance industry is invaluable for their professional growth, which in turn benefits the organization that employs them also.
All MGAs are looking to hire talented underwriters and entrepreneurs; as mentioned above, CAMGA has created an MGA specific designation, the CMGA operated by the Insurance Institute, which will give anyone already within the MGA space, and those looking to enter it, the basics of how an MGA operates. If you are an underwriter or an individual with an entrepreneurial spirit, then you should consider the MGA world.​
For those with a keen interest in technology, it's a constantly evolving industry. The implementation of AI as a tool for extracting data from documents and reviewing policy details for accuracy is just an example of the direction we are headed. Technology also allows carriers, brokerages, and MGAs to expand their reach for seeking talent beyond the office walls – perhaps on another side of the country – by being able to accommodate remote offices or introduce flexible hybrid models, which is proving to be desirable in the insurance industry.
Mentorship programs also demonstrate a commitment to the employees' growth as a professional in the industry.
In our Women in Insurance interview series, we speak to women who are shaping the future of insurance about what the industry can do to promote greater diversity, equity, and inclusion. According to special report published by Insurance Business Magazine, 65% of the total insurance industry workforce is female, but only 12% of C-suite officers are women. Why do you think there are so few women in senior leadership roles in the insurance industry?
I have the fortune of working for an organization where 90% of our senior management team are women – all strong, intelligent leaders. As more women become involved in the decision making of companies and boards, my hope is that, in a matter of time, more will transition into these high-level roles. Unfortunately, I think women often go unnoticed for their talent and skillsets if they do not express their wants and desires for career advancement. Some women still undermine their own potential. It could be that they lack the confidence to take a chance or to put themselves forward as a candidate for advancement, or it may take encouragement from a peer/colleague for a woman to realize her potential and how much value she has to offer. And timing is everything. An opportunity may present itself at a time where a woman must choose to prioritize family over career. It may not be until later in a woman's life where she is able to pursue and commit to a leadership role.
What can insurance companies do to ensure that women not only stay in the profession but advance in their careers?
I am of the belief that regardless of where one works, and in what capacity, one should be compensated based on their abilities, skill sets, and qualifications regardless of gender (or any other form of diversity for that matter). Where possible, insurance companies could seek to promote talent from within based on an individual's performance and productivity instead of looking outside of the organization. I think some women are often overlooked for promotions or they are reluctant to apply for other opportunities if they don't check all the boxes for every qualification in the job description. Engage in conversations with your employees, an ask them what they aspire to accomplish in their career. You might be pleasantly surprised to learn that the employee that keeps their head down and gets their work done with minimal supervision desperately wants an opportunity to advance into a leadership role. Take that as an opportunity to invest in training and mentoring the employee, shadowing with a senior employee or leader to learn the ropes.
What positive changes have you seen since you began in your career?
Opportunity: I have had the fortune of being given opportunities to continue my education, obtain designations (I am currently working towards obtaining my CMGA designation to add to my CAIB), and to join associations such as CAMGA and the London Insurance Brokers Association throughout my career.
Adaptability: When the world was faced with a global crisis, the insurance industry continued to function with minimal interruption. MGAs continued to deliver innovative and effective insurance solutions to Brokers, allowing them to focus on their clients needs and requirements.
What advice would you give the next generation of women considering a career in insurance?
My professional network continues to grow, and I have met many inspirational insurance professionals in my 13+ years in the industry. Get involved! If you aspire to be a leader in the insurance industry, join associations, boards, and professional networks. Take courses, continue your education. Step outside of your comfort zone, hold your head up high, and be confident in your abilities.

---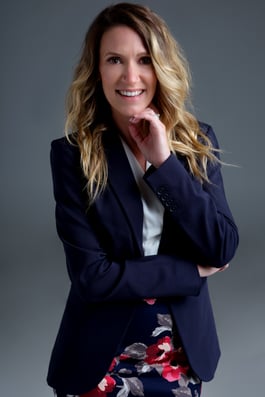 MaryKate Townsend is the Senior Underwriter and Manager of Pacific Marine Underwriting Managers Eastern Canadian Region and President of the Canadian Association of Managing General Agents (CAMGA). In her role at Pacific Marine, it is her passion to help brokers across Saskatchewan, Manitoba and Ontario build a profitable pleasure craft book of business. MK, as she is known, represented, and advocated for brokers as a board of director for the London Insurance Brokers Association (LIBA) including the role of President. She is well known in the Ontario broker channel and is also connected with the greater community where she is an advocate for life jacket legislation and drowning prevention. Always keen to learn and continue her education, MK is currently working towards obtaining her CMGA designation.