Eighty-five percent of insurance executives are deploying customer experience (CX) initiatives throughout the customer journey, according to an IBM study. The pressure to innovate and to adapt is growing exponentially as the pressure to deliver the optimal digital customer experience mounts. Investments in various forms of digital self-service websites, tools, apps, chatbots and virtual assistants have escalated as a result of internet-savvy customers expecting quick responses and COVID-19 restrictions hindering in-person meetings for brokers and agents.

Being a trusted advisor is at the heart of insurance broking, however there are numerous market trends and factors impacting the future of insurance broking. Factors like the hardening market, commoditization of specific insurance products, changing customer demands, and technology are driving commercial lines insurance brokers to quickly embrace and drive innovation across their organizations. Making bold digital moves will enable brokers to streamline their operations and outpace the competition.
Get our viewpoints delivered to you inbox
On this episode of AI Wisdom – Talking Insurance Innovation, host Ron Glozman, CEO and Founder, Chisel AI speaks with Tina Osen, President, HUB International Canada, the largest insurance broker in Canada, about the changing insurance landscape and how brokers are adapting to new market dynamics to strengthen their trusted advisor status.
As President of HUB's Canadian operations, Tina is responsible for six regional "hub" retail entities, as well as HUB Financial, Totten Insurance Group, and Cansure wholesale operations. Introduced to the insurance industry at a young age, Tina is a recognized leader and innovator with 20 years of experience in the insurance sector. Most recently recognized by Insurance Business as one of the Elite Women for 2020, Osen has also received numerous accolades including an Honouree at the BIV Influential Women in Business Awards, one of the Top 100 Most Influential Women in Canada by the Women's Executive Network and in 2016 she was presented with the Wendy McDonald Diversity Award by the Vancouver Board of Trade and was named Salute BC's 2016 Insurance Person of the Year.
Tina shares her perspectives on emerging risks impacting both commercial and personal sectors and how using technologies like AI to support the customer experience can help make data-driven recommendations to consumers. Osen explains, "By leveraging technologies to create education moments that are positive and make the customer feel like their insurance broker gets them and understands what coverage is relevant for them will enable us to deliver better customer experiences."
Shrinking capacity on some risks and the emergence of new risks are challenging brokers in both the commercial and personal sector. Tina suggests that the industry needs to do more work using data and analytics to help identify problem areas in accounts, market segments and to make actuarial determinations about what actions can lend to healthy portfolios.
As Osen puts it, climate risk is a massive problem for the commercial and personal sector and we need to step up as an industry to partner with local, provincial, and federal governments to help lend solutions to some of these really real climate change issues that, if we don't proactively start to solution around are going to be significantly more challenging to the industry than COVID.
According to the Insurance Institute of Canada Climate Risk Report, since the 1980s, the payouts for severe weather damage claims have doubled every 5 to 10 years and if the trend continues it will drive profound, transformative change in Canada's insurance industry. Damage to buildings and infrastructure is expected to increase because of growing numbers of people and assets located in areas of risk. This increase is worsened by aging infrastructure and the rise in frequency and severity of extreme weather events. Changes in exposure mean that large losses will become larger, and the average annual severe weather claims paid by insurers in Canada is expected to double over the next 10 years, increasing from $2.1 billion a year to $5 billion.
Cyber is also a massive challenge for commercial lines. As John Anderson, Principal, Client Product Advisor, CyberCube explains phishing scams are certainly growing in popularity and we're even seeing this newer trend of what's called ransomware-as-a-service. And of course, these ransomware and malware attacks, vary in sophistication with some of the more virulent strains being tough to combat and causing increasing costs for companies. Osen concurs it's only going to get more complex with digital opening up these new pools of risks.
According to Coveware, the average ransomware payment increased by 43% in Q1 2021 to $220,298 from $ 154,108 in Q4 of 2020. The percentage of ransomware attacks that included a threat to release stolen data increased from 70% in Q4 2020, to 77% in Q1 2021. As per the Upguard website, the global cost of data breaches in 2021 is expected to reach $6 trillion annually.
Beyond stepping up to address emerging trends and new risks impacting the industry, Osen reminds listeners the industry's digital aspirations need to be a lot bolder to drive tremendous results. While it's important because we can get gains in efficiency and cut costs, we really need to look at digital as an enabler to generate new revenue that will drive numbers that are significantly stronger than we're currently driving as an industry.
Thinking about partnering with an InsurTech to supercharge your digital strategies, Tina offers practical advice and outlines the tough questions to guarantee the partnership delivers against immediate goals and scales as your business needs evolve.
Want to hear more valuable insights from HUB International Canada President Tina Osen? Listen to the full episode or read the transcript for more about the potential impact of new risks, approaches to elevating the insurance customer experience, key questions to ask when partnering with InsurTechs, and why the industry needs to be more brazen with their digital strategies. Click play to listen to the full episode (listen time 39 minutes) or read the full transcript below.
Full Transcript
Ron: Hello and welcome to "AI Wisdom - Talking Innovation in Insurance". On this podcast we talk to business and Insuretech leaders about how artificial intelligence is transforming the way we buy and sell insurance. I am your host Ron Glozman, Founder and CEO of Chisel AI and a strong believer in the power of AI to help people work smart and enrich their lives. So, let us get into it.
I'm very pleased to have Tina Osen, President, HUB International Canada. Join me today, as we discuss how brokers who readily embrace market opportunities and drive innovation can leapfrog the competition while strengthening their traditional advisor status. Welcome, Tina.
Tina: Thank you, Ron. It's great to be here.
Ron: Thank you for joining us. Before we jump into our main discussion, can you please introduce yourself?
Tina: Sure. I grew up in Vancouver, British Columbia. I am a married, mother of two and grew up in a family where my dad was the owner of a successful regional entrepreneurial brokerage. So, when I was growing up, our parents had told my sister and I, there was this opportunity to come into the business that we had a foot-in-the-door and from there we'd have to earn every opportunity. So, I guess being a pretty pragmatic person decided to take the leap into the business and had the opportunity to work both in the family business. And then, we sold to HUB in 1999. I ran the greater Vancouver operations for about 13 years and then in 2017, stepped into the role as president of HUB's Canadian operations.
Ron: That's an awesome journey and I guess it'd be fair to say you're a lifelong insurancer if I can put it that way.
Tina: It would absolutely be fair to say that.
Ron: Awesome. I guess you told us a little bit about your past, but what attracted you to it? Because I know you're very smart, I'm sure you could have been a lawyer or a doctor or whatever you were passionate about, you could have pursued and gone down that path. So, aside from that opening in the door and still having to work for it, was there something else that attracted you to the profession?
Tina: You know, I think having the privilege of having this father that was in the business and somebody who was very communicative, and we always had family dinner and he always shared with us what was going on in the business and talked to us about different things. I think really the attraction was just seeing how much my father enjoyed the business. And so, if it derived that much pleasure for him, why wouldn't I give it a try? And I think going one step further it is a business that constantly provides opportunity for growth and learning, it's not a stagnant industry, there's changing risks, changing exposures. So, that ability to consistently kind of learn and challenge yourself.
Also, I think the other thing that was really attractive to me is everybody needs insurance. I remember seeing a presentation when I first started out in the industry where the speaker was a guy named Bob Bickerstaff who was very senior in the Vancouver business community from an insurance perspective. He said planes don't move, trains don't move, cars don't move if you don't have insurance. And by virtue of that, you have this opportunity to intersect and connect with everybody, which gives you this broad kind of connection and ability to learn so much about so much business and so much industry.
Ron: That's amazing, and I love that mindset. I think you said Bob, he hit the nail on the head there. Insurance is aside from death and taxes, probably the only third thing that you can be certain of.
Tina: Absolutely.
Ron: So, I'm curious if you put yourself back in your younger shoes, when you first started in the industry, you probably thought some things were going to be a certain way. What ended up being harder than you expected?
Tina: Yes, I think maybe two things come to mind here. And I'm sure, of course, there were many things that were challenging in terms of just learning and understanding the technical aspects. But probably, the two things that resonate, many years later is one, very simply being the daughter of the president, wasn't always easy and I quickly decided after I joined the family brokerage that I needed to go somewhere else and garner experience before I returned to the family business. I really wanted to be able to demonstrate to other colleagues in the office that I knew something, and I could contribute. I think the other thing really, I don't know why I guess just naivety that I did not appreciate, when I started into the brokerage for the second time when I came back, I went into commercial sales, and I really have a passion for sales to this day. I think I underestimated just the consistent and constant effort you have to do to build a pipeline of customers or prospects. And really this notion that sales is a marathon, it's not a sprint and that really, really successful salespeople have spent years building relationships that, come to fruition over time. And at some point, you really get to a point where you hit a stride and you're winning business, but that is not something that just happens. It is about the work not just in the nine to five, but in the five to nine to really build those connections and relationships.
Ron: That's such a good way to put it, It's not just about the nine to five it's also about the five to nine. Did you come up with that yourself?
Tina: No, I don't think so. But somewhere I probably heard it and it stuck.
Ron: It's very good. So, I'm curious, as the largest broker in Canada, what do you think makes HUB International different from all the rest?
Tina: I think maybe I'd answer that in a slightly different way only because I don't sit in the shoes of our competitors, but I think there are a few things that from my lens really stand out for HUB and why I think we've been successful. We grow by acquisition, and we grow by organic growth and when we do these acquisitions, we manage to keep about 98% of key brokerage leadership for years after they join our firm. I really think that's because we deliver on this holistic value proposition for our clients, that really is market-leading in terms of the resources, talents, capabilities we bring to bear. But I also think it's because we've managed to figure out that secret sauce in terms of finding opportunities for people to have second and third careers with HUB, that are different than owning their own brokerages, but still incredibly meaningful where they can contribute to HUB in a significant way.
I think we have a proven track record over these 22 years that we've been around. So, when I say that, I really mean we drive results, but we have a proven track record in terms of our talent. All of this is around the notion of doing what we say we're going to do and really delivering on our commitments, and I think we have a healthy dose of humility. We don't sit on our laurels; we never think we're good enough, we're consistently looking at how we improve our customer value proposition, our talent brand for our employees, our relationship with our carriers. And so, because of all of that, I think that commitment to improvement and excellence has really helped fuel our success.
Ron: That's a great characterization, and I think it's a great perspective on how to operate as a business. And so, I want to ask you, what is one thing that everybody in the commercial insurance space should start doing today when it comes to the buying process and better serving the policy holders looking to buy?
Tina: I think as an industry and COVID has helped this ­_ it's accelerating this, but I think our digital aspirations need to be a lot bolder. So, business can take significant steps forward in growth when you commit to a strategy, and we've been in an industry that has been good to so many of us. Like we're comfortable with a year where we deliver solid, single, or low double-digit growth and we think that's awesome. But I believe that if we set these bold aspirations for our digital strategies, that we can really see tremendous results here. I also think while it's important because we can get gains in efficiency and cut costs, we really need to look at digital as an enabler to generate new revenue that will drive numbers that are significantly stronger than we're currently driving as an industry.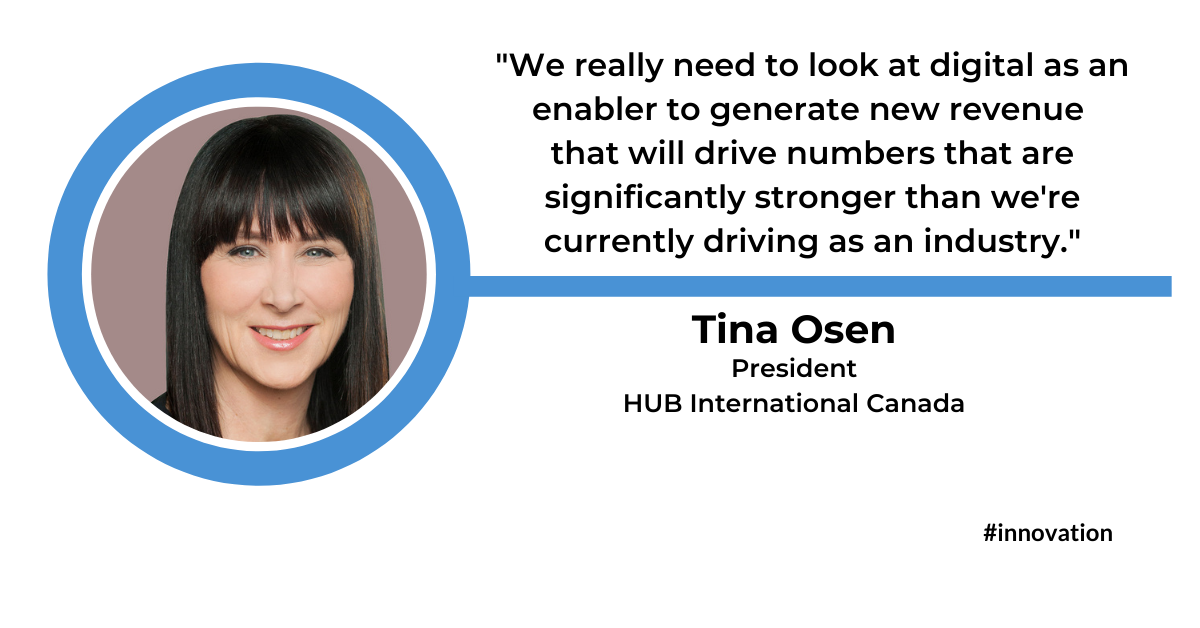 Ron: So, it's interesting because you touched on something that I wanted to dedicate a couple of questions to, but one of the main questions is, around COVID you touched on there and what are some of the other factors that you're seeing when it comes to what has impacted the industry? And then secondly, and maybe more interestingly, how would you rate the industry as a whole as responding to the pandemic?
Tina: There's probably a couple of the answers I have there. So, first of all, we've been in this hard market, which has really impacted the commercial insurance sector and that ability to garner capacity on some risks has been challenging for brokers as a whole to say the least. And I think the industry has to do more work around having really solid data and analytics that help us identify problem areas in accounts or particular segments and allow us to make some of those actuarial determinations about what actions can lend to healthy portfolios that aren't necessarily broad-brush approaches across blocks of business, but more specific to a given risk.
I think from a what's coming at us, climate risk is a massive problem for the commercial sector and for the personal sector too. The industry is doing some really good work with organizations like ICLR, which is the Institute for Catastrophic Loss Reduction, and the work that Dr. Blair Feltmate, who's head of the Intact Centre on Climate Adaptation and bringing industry stakeholders together in a wetland Canada coalition to restore wetlands. All these initiatives are necessary, and we need to step up as an industry to partner with local, provincial, and federal governments to help lend solutions to some of these really real climate change issues that, if we don't proactively start to solution around, we think COVID is difficult, climate risk is going to be significantly more challenging for the industry.
I think maybe the last thing I'd say is cyber's also a massive challenge for the industry commercially and it's only going to get more complex with digital opening up these new pools of risks.
So, I say we need to be a lot bolder on our digital strategies as we're a lot bolder on that that presents new challenges for us. And, not really a matter of if, but when, and that's going to be problems for policyholders and for businesses as well. So, I think all of those things are big impact areas on the commercial insurance sector. You know, how is the industry doing? I think not as well as we could be doing.
I think we have to get a lot more focused on industry solutions around some of the climate pieces, certainly from a data and analytics perspective, there's a ton of work to do there. And then, from a cyber perspective, how do we get into some of that pre-loss mitigation work.
Ron: For sure that's such important work, and it's something that I think we'll see continuing in the future. I think one of the things that we've seen, and I've heard in the past is the pandemic in some sense was like an accelerator, things that would have been say 5 or 10 years out, but the number isn't too relevant have happened in a much shorter period of time than expected. And a lot of that was driven out of necessity and also out of maybe regulatory change and some other things that helped it along. What do you think going forward over the next three years are some of the trends that have begun and are going to continue outside of the ones we just talked about?
Tina: Yes, a couple of things come to mind. So, one as we look to digitization of this commercial space, particularly, probably in that micro to small business area, I think you're going to see the industry engaged in more strategic partnerships between brokers and InsurTech carriers and InsurTech for that matter to create vehicles, to deliver, a digital experience across multiple platforms to our customers. Some may buy, some may build, but I think the rent model is going to be the most prevalent and quite frankly, leave the tech to those who do the tech and leave the sale of insurance to those who do the sale of insurance. So, I think we're going to see a more of those strategic partnerships. I absolutely think we're going to see an acceleration of the utilization of AI, particularly around the automation of processes like claims, underwriting policy, admin, and sales.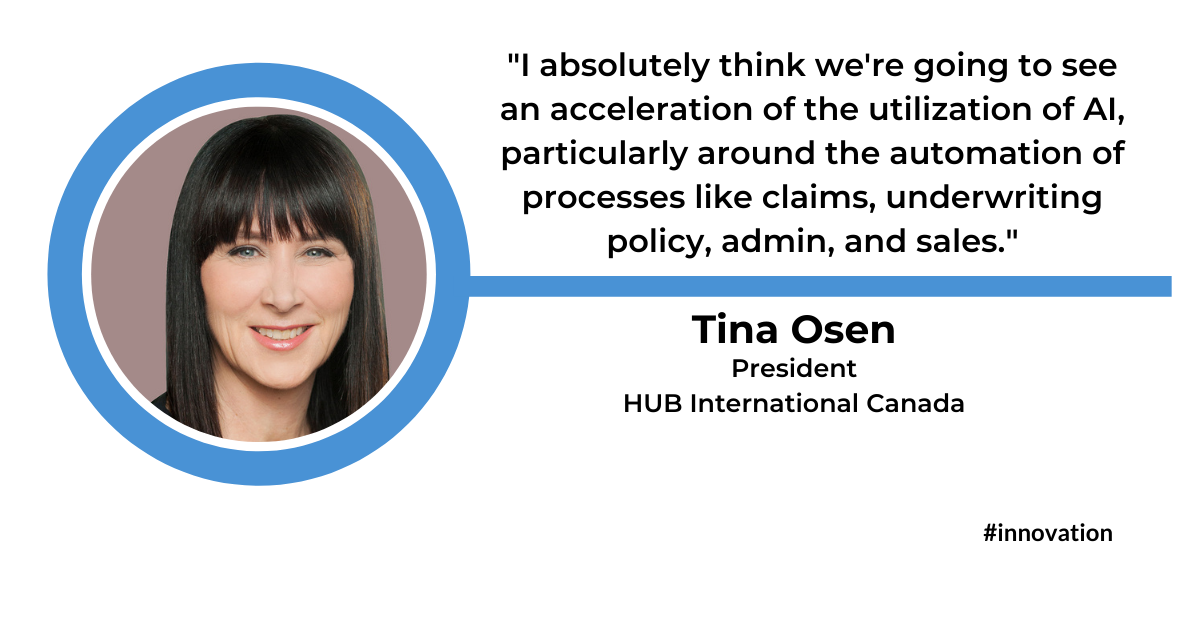 That notion of intelligent automation to serve customers and brokers better and piggybacking onto using that AI to support that customer experience. So, helping make those data-driven recommendations to consumers. How do we create those education moments for our customers that are positive and make them feel like we get them and understand what might be relevant to them? So, I think that's some of the real drive that we're going to see in terms of trends that will enable us to have that better touch experience with our customers. If we utilize that technology in the right way.
Ron: That's right and I think that partnership and that question of build versus buy and sometimes build versus buy versus partner is going to be an interesting and we're going to see the dynamics play out of that. I'm so happy to hear that you also mentioned AI as one of the things, because obviously that's near and dear to our hearts here at Chisel. So, we're going to take a quick 20-second break to tell you where you can find more information and insights about insurance innovation. We'll be right back.
[If you liked this episode of AI Wisdom, subscribe to our blog, Writing the Future: AI in Commercial Insurance at www.chisel.ai/blog for feature articles, interviews, opinions, and more.]
Ron: We're back with our featured guest, Tina Osen. Let's jump right into the next question. As the Canadian commercial insurance landscape continues to be impacted by the hard market, what can brokers do to better address higher premium prices and contracting capacity for the hardest hit commercial lines while rate increases have exceeded 30% in lines, such as construction, financial lines, professional indemnity lines for all sizes of accounts?
Tina: Ron, I think the industry has more work to do around having really solid data and analytics that tie back to the claims data, the risk accumulations, all of those data points that help you identify problem areas in accounts or particular segments. I referenced in the earlier part of our talk about being able to make those actuarial determinations about what actions can lend to healthy portfolios, that aren't those broad-brush approaches. And so, using that to really do a lot more work around proactive risk management. So, how do we take that data and then identify those trouble spots and then partner with our risk management teams to mitigate that risk before it happens? To help make our customers healthier risks and provide them with that knowledge and the strategy so that their business becomes more attractive. I think that is going to become critical because we're going to have to be able to establish why a carrier should take their bet on a certain business even if the class as a whole is not performing as strongly for the carrier. How do you differentiate yourself from the pack so to speak?
Ron: That's right. How do you differentiate yourself from the pack? And I think oftentimes there are at least externally for the consumer or the policyholder, they don't see too much of a difference as far as brokers, especially the ones who might be first-time buyers and not as familiar with the different players. Oftentimes, insurance is seen as a commodity and so, being able to differentiate and really be, a head above everybody else is going to bring you not only more clients, but it's also going to help you retain the clients that you have because I've had many people telling me that, it's great to be growing your business at the top line, but if you have churn i.e, people leaving and not renewing, that can be, especially if it's larger than the positive net gain at the top, that can kill a business. And so, being able to really differentiate yourself in whatever way you can is going to be such a key advantage for anybody who can deliver on that process.
Let's talk a little bit about cyber insurance because obviously we're living in a digital world and it's only becoming more and more digital, especially with work from home, most people were spending most of their time and waking hours at home on the computer. So, nobody can argue that digital world isn't here. But oftentimes, we see that there are large ransomware attacks and we heard about one even like recently two or three days ago in the news, but there've been some ransom attacks that have even been targeted at carriers themselves. So, with the recent rise in all of these ransomware claims, all of these ransomware attacks, how have you seen capacity be affected when it comes to cyber coverage? And then what can you do as a broker working with a carrier to ensure that policyholders are well-informed and protected from cyber-thieves? Because obviously, the best way to prevent a claim is to never have it in the first place.
Tina: Right. Well, you're bang on, we're definitely seeing capacity type in the cyber world. You know, $10 million limits are often being cut back to $5 million and even lower limits and we're seeing those carriers starting to restrict further and loss ratios are at over 400% as of the end of Q4 2020. So, this is definitely an area that is not driving profitable results for the industry right now.
Insurers are deploying a bunch of underwriting measures to try and get control of these loss ratios. Anything from premium increases to deductible increases significant coverage restrictions, limiting capacity, scrutinizing each risk, and ensuring really what they would view as best in class. So, I think as an industry, we can serve a bit of a dual role here.
So, we can not only place the coverage for our clients, but we have to provide them with that advisory piece facilitating those discussions between the cyber incident response professionals, the insurers, and our clients. Education is key because our clients need to better prepare themselves for network security, privacy liability events, and they really need to understand as insureds what some of those touchstone security measures the underwriters will want to see when underwriting a risk, such as implementing multifactor authentication things within their system, employing end-point detection tools, regular employee training around all things to protect the organization from breaches, and conducting periodic table-top exercises.
We have a responsibility as an industry right now to really educate our clients on all things they can do to help protect their businesses from those exposures.
Ron: Amazing. I love that. And obviously, it's also something that is only going to be more and more important to people to have this coverage. And at the same time, it's great to hear that you're providing that support and education because at the end of the day, most attacks are not due to bad system design, but usually, due to just like poor password choice, opening unsafe emails, phishing emails, things like that are very, very dangerous and education can very simply prevent them. And then, of course, there's obviously the network security piece which is a much more technical piece but equally is important.
One thing that a lot of companies struggle with is embracing innovation because change can be scary, and change can be very challenging. What have you seen and what are your recommendations to help people who are struggling with change and implementing new technologies and business models? As the President of HUB International Canada, you have the ability to influence a lot of these decisions, but oftentimes people lower down on the chain might feel scared or if things go bad, they don't want to be reprimanded. What would you say to those people? What are your recommendations?
Tina: While I totally agree with you here, I think organizational change is really, really hard. And in an environment right now where the necessity to be agile and adapt to change is so rapid-fire, I think there's some really imperative steps to ensure success. So, first I think it's really important that you clearly articulate the vision and where you want to be, why you want to be there and how you're going to get there. Change management has to move fast these days. You have to be agile and ready to pivot.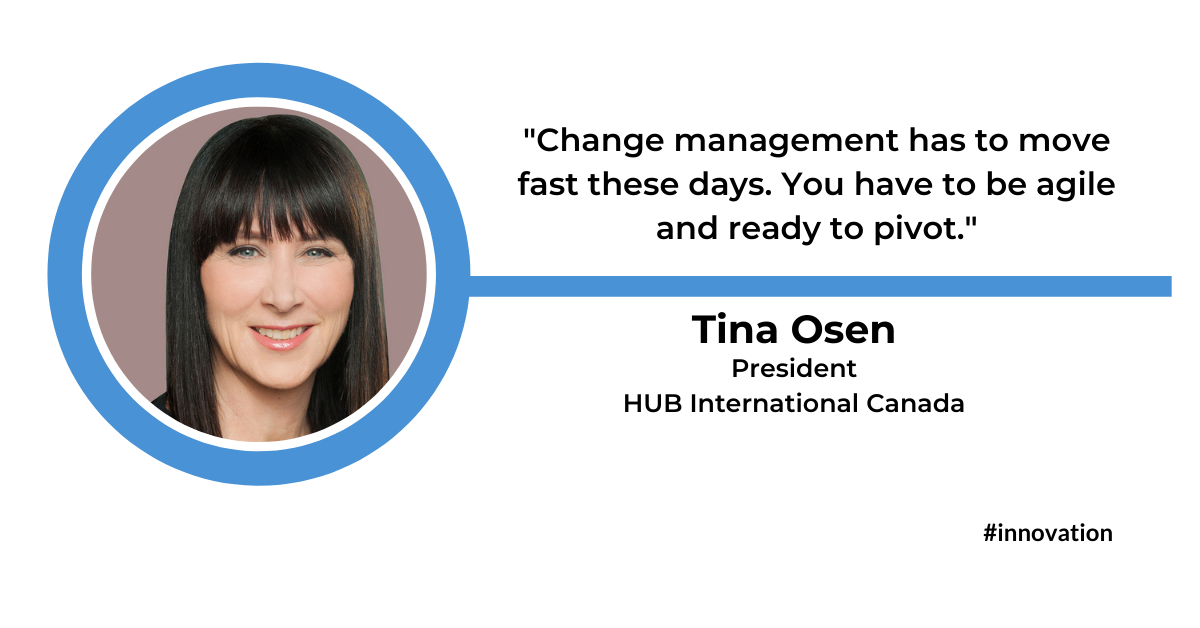 It's really important to have those short-term goals, truly inspecting what you expect and making sure that you're moving things forward but breaking down big projects into smaller more achievable steps so people can taste that success, have that feeling of accomplishment, not make the project seem so daunting because you have these steps to the greater goal.
I think probably one of the hardest things when you're doing big change management projects, is you have to put your best people that are influencers in the organization on these change management projects. That can be hard to execute because those are the folks that are having such an impact in the day-to-day.
But those are the individuals that can identify the business problems that are going to arise, that have that influence through the organization, and really can create change in a way that anticipates some of the challenges that will come at you. I think change management requires really strong project management and a change management resource to make sure that all of the communications, training, and education is in play. Like communication, I cannot underscore that one enough. Every time when we have failed on change management projects, it's usually tied to two things, poor communication or poor training and education attached to whatever it is we're doing. And then I would say maybe last comment would be testing and learning, I think is really key.
I'm a big believer in bite-size pieces, fail fast, iterate, try again, prove it out, and then expand. So, you garner that success, the momentum, and energy to move it to the next level.
I know I said it before, but like over and over again, we have this expression "inspect what you expect." You can't let your eye off the ball, you need to measure it. You need to make sure the behavior's happening.
Ron: You have so many good one-liners "inspect what you expect". I love it!
Tina: I didn't coin that either. I'm just really good at taking other people's expressions.
Ron: That's the best, that's the most important skill of storytelling, is finding a way for people to relate. So, I think that's okay. You don't have to coin it, it's a good skill.
And so, how do you feel and how do you think, you talked a little bit about AI and AI is very cool. Obviously, like that's our area of expertise, but there's many other cool things that are happening in the industry. So, there's chatbots, wearable devices, IoT devices, and a whole slew of technologies that are going to impact the Canadian insurance industry and even globally. So, what do you view as the 5 to 10-year space? Where will we be 5 to 10 years from now? And what do you see the changes or the impact that it will have when it comes to the future workforce?
Tina: I think, Ron, this is in some ways a short answer for me. From the perspective that I really think all of those things you listed, whether it's chatbots or wearables or the AI are all things that we can use to support those data-driven decisions and can help us in that speed in which we interact with our customers, help us reduce that cost to transact and all of that supports us being able to bring to market new products and solutions quicker at lower costs. So, some of it will work and some of it won't, but I think all ultimately, over the next 5 to 10 years, I don't see it as something that impacts the workforce in a negative way.
I see those as all complementary solutions to make our workforce be much more effective at creating a really amazing customer service experience for our customers.
Ron: That's right. I agree. I don't think, people should be worried. I don't think there's going to be like a shortage of work in the insurance industry. I think everybody can agree that there's probably too much work in the industry right now. I know a lot of really hardworking brokers who work crazy hours, and I would wish they work a little bit less just for them. So, I totally agree. I don't think that this is something people should be worried about. What do you see as the top five factors that brokers should consider when partnering with InsurTechs and other technology vendors? What are the five things that are going to be most important in the success of a project in choosing the right partner?
Tina: Sure. And I'm kind of chuckling because you...I'll probably give this list and then you'll tell me what I missed on the list. First, I think you need to test assumptions when you're partnering with your InsurTechs. Ask the tough questions. What happens if? Have you thought about? So, really digging into understand how things work and challenging the things that don't feel comfortable. So, putting it another way, really looking at the scope of the project, the functionality, does it serve you? Does it serve your customers, your employees? Is it going to do what you want it to do? And then secondly, what's the back end of the InsurTech? What does that company look like? If the principal walks away, is the business model sustainable? Do they have the financial wherewithal to support the business model and scale up while still controlling the costs? Can they grow with you?
I would say, look at the cybersecurity elements of the InsurTech, what are their controls? How are they protecting your data? Are they engaged with other third-party providers? And what are those controls? So, you want to make sure that when you partner with somebody, you're not making yourself further vulnerable to attack or some sort of cybersecurity breach.
I would probably say from a fourth perspective, make sure you're developing metrics or KPI's that you want to achieve mutually and that you have a way to measure and make sure that you're tracking that progress. And probably, because I think it's always important to have a mutual exit clause, predetermine or establish an agreement on how you exit if things don't work out. Who owns the clients? What's the notice period? All of these sort of things. So, those would be some of the things that would be important to me when we're looking at different technology vendors.
Ron: I think you hit the nail on the head. I don't have, I mean, we said five, obviously, if we said infinity, I'd have more to add, but no Tina, I think those are definitely the right five. If I had to do five, I'd do the exact same ones. So, looking a bit further out, how do you see the role of brokers changing when it comes to, let's say 10 years out just to be a little bit more of a drastic difference?
Tina: It probably ties in a little bit to our earlier comments, I believe with AI helping to support us or any other technology that comes to bear. I think we just become more proactive in terms of providing advice to customers.
I think the world looks like one where we drive quicker decision-making. We're more consultative to our customers because we're more tech-enabled and we can enhance that experience the customer has with us.
So, we engage in a more real-time basis. We recognize key life events for them and hopefully offer tremendous counsel around some of those pivotal moments and certainly embrace more, user-pay-type situations.
So, I think it is maybe in transactional, how do we use the technology to enable and support some of those key events that happen and have them interact with us in a way that they want to interact with us when they want to interact with us. And then, in some of the larger business balancing the support of the AI to really become true advice givers and true proactive partners with our customers to help them mitigate risk and solve problems in advance of problems really coming to bear.
Ron: That would be amazing. I don't know exactly how much prediction we'll be able to do. Obviously, if we could predict a car accident before it happened, I think everybody would be a lot happier, but I certainly echo that sentiment. So, I'm curious as we wrap up, who's a business leader in any industry, it doesn't have to be insurance who you admire most?
Tina: This is a tough question for me because there's lots of leaders and lots of big global names that would come to mind. But I think I'm going to tell you the name of a leader that won't mean a lot to many people unless you're based in the greater Vancouver area, but there's a very successful businessman in Vancouver. His name is Joe Segal. He built a real estate dynasty. He self-made himself and was a customer, still is a customer of HUB's, has been for many, many years. I would consider him someone who has had an impact on me for three reasons. So, first Joe Segal always said to me, "There has to be a win-win in it for everyone." And I've tried to prescribe to that in my career. Because I really think that that's such a great way to approach negotiations, partnerships, relationships with employees, everything, how does everybody feel like they're getting a win out of it?
Secondly, he always felt that part of being successful was then turning around and giving back to the community at large. I don't think I know anyone who has had more of an impact in charitable giving both in the province of British Columbia and across the country and also globally.
Lastly, he always reminded me that if you aren't having fun, then you shouldn't be doing it. So, I think those three things really have stuck with me in my career. They're not complicated, but they're just really good rules to approach how you approach or at least in my case really great rules for me to follow, to have a rewarding career and rewarding relationships with people.
Ron: Joe sounds amazing. I love that you chose someone local and that you chose somebody who people haven't heard of because his character, you can just tell like what type of character he is from that short story. I'd love to meet Joe like he sounds amazing. So, as we wrap up, what's one piece of innovation wisdom that you would give to our listeners?
Tina: Be curious, don't think you have all the answers, challenge the status quo. I guess this isn't one piece, but I'm just going to give you a little ramble here.
I think be open to where there might be other ways to do things and don't fall into that trap of just because we do it a certain way, doesn't mean we need to keep doing it that way.
I think that's what I would say about innovation.
Ron: Amazing. Short and sweet. So, Tina where can people find out more about you and HUB?
Tina: You can find out more about us, our website is www.hubinternational.com or I am at tina.osen@hubinternational.com.
Ron: Awesome. Thank you so much. And as always, if you'd like to find out more about the latest and greatest of insurance innovation, please check out www.chisel.ai and feel free to connect with me @RonGlozman on Twitter or Ron Glozman on LinkedIn. Thank you.
That's a wrap for this episode of "AI Wisdom" hosted by Chisel AI and me, Ron Glozman. Thanks for listening.
If you like our podcast and want to hear more, check us out at www.chisel.ai or tune in and subscribe wherever you get your podcasts: SoundCloud, Spotify, iTunes, Google Podcast, or Stitcher.
Join us next time for more expert insights and straight talk on how AI and insurtech innovations are transforming the insurance value chain. See you on the next episode!