The commercial insurance industry is a $120 billion business and continues to accelerate. However, the industry is plagued with delays and inefficient processes. According to the Harvard Business Review, "a well-designed digitization program can deliver up to 65 percent in cost reduction and a 90 percent reduction in turnaround time on key insurance processes."
With the industry battling endless paperwork and manual processes coupled with entire workforces working from home, resulting in lost revenue opportunities, strained carrier-broker-policyholder relationships, and costly errors and omissions, many insurance companies are now seeking a viable solution to cure the absence of automation and the challenge in attracting and retaining new talent.
Get our viewpoints delivered to you inbox
Industry analysts are predicting that online insurance sales will continue to increase amplifying the need for insurance carriers and brokers to reimagine how they conduct business today. Automating elements of the insurance value chain such as policy checking for brokers and policy checking for carriers will be a necessity to accelerate the quote-to-bind process, invoke straight-through processing and capture new revenue opportunities.
"Novarica predicts that the market size for direct online sales of small business insurance will increase to $3.7 billion by end of 2020 and could grow to $12 billion by 2025."
The Issue with Relying on Manual Policy Checking Processes
When commercial insurance companies rely on manual processes that lack the ability to centralize, automate, standardize and track policy checks, trust among their brokers, agents and policyholders can be broken. Forming teams of skilled knowledge workers armed with yellow highlighters and red pens to manually check policies comprised of hundreds of pages lacks efficiency and quite often results in errors and omissions. After hours and hours of combing through pages and pages of policy language, coverages, endorsements, etc., humans get tired eyes and overlook missed information. Often only spot checking 10 to 50% or less of the policies due to the lack of manpower and the amount of time it takes to review hundreds and hundreds of pages.
Based on a recent poll, brokers indicated that it takes them anywhere from 2 to 4 hour up to 5 to 7 hours to check and validate policies, which is approx. 40% of an average insurance professionals' day.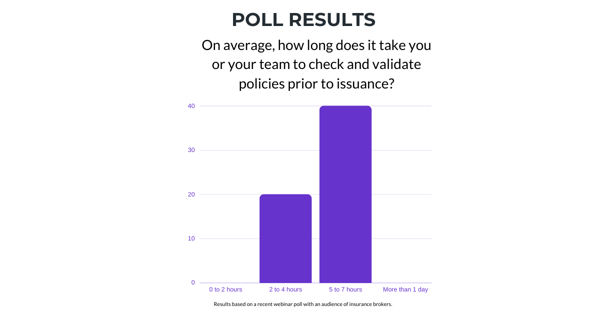 "A traditional insurance broker's day is made up of 70% admin and 20% business sales, with only 10% left for providing expertise to clients."

– Paul Donnelly, Executive vice president for EMEA, Munich Re Automation Solutions – Insurance Business
Manual underwriting processes lack flexibility and are difficult to scale. The only way to be able to review more policies in a set period of time is to hire, train and assign more human knowledge workers. However, task-oriented, high volume work like policy checking is boring and mundane resulting in a high probability of errors.
Unplanned events, like COVID-19 further exacerbates manual processes, with entire workforces working from home, its no longer viable to print copies of policies, deliver hard-copies in-person to a nearby co-worker for secondary checking and validation. Most individuals do not have multi-screen setups in their home offices further highlighting the inefficiencies of manually checking policies.
In contrast, deploying a SaaS-based Artificial Intelligence (AI) solution for insurance has significant benefits:
Purpose-built AI solutions using Natural Language Processing (NLP) and Machine Learning (ML) that contextually understand insurance jargon significantly increase data extraction processing speeds and eliminate the need to spend two to four hours rekeying data into other core systems.
Digitizing the entire process of checking and validating policies reduces the risk of errors and omissions.
SaaS-based AI solutions offer the flexibility and agility to easily scale across lines of business and geographies.
The ROI of Automating Policy Checking
If an insurance broker loses roughly £100 million a year due to lawsuits stemming from E&O claims, what if they were able to demonstrate a 10 to 13% reduction in E&O claims in only one year by automating their insurance policy checking process, reducing their risk of E&O, and increasing the number of policies actually checked prior to issuance.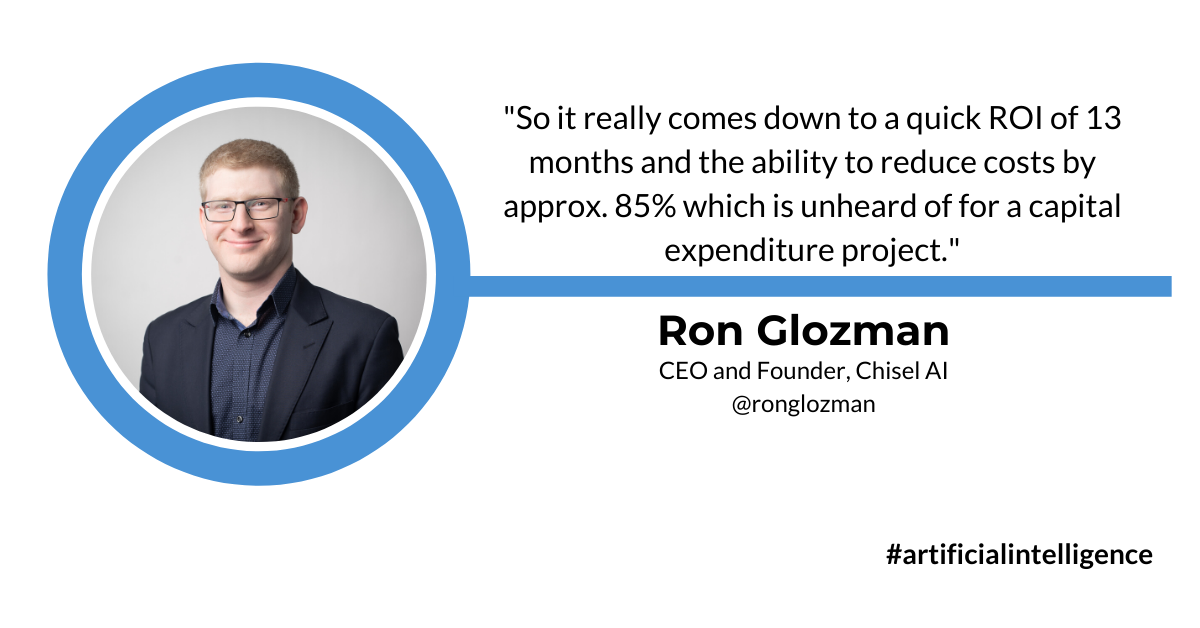 A 10 to 13% reduction of £100 million in one year is a quick return and does not include the costs associated with labor efficiencies or the revenue potential that could be earned by freeing up your skilled knowledge workers to spend more time providing bespoke insurance services and coverage recommendations to customers
Imagine, saving 10% year over year for five to ten years. To generate ROI on a capital expenditure project in just 13 months is uncommon and so powerful when you are talking about reducing costs by approx. 85% and reducing exposures by 10% or more.
The Power of AI-Enabled Policy Checking
Document comparison, often referred to as redlining, is primarily used to identify changes between two versions of the same document for the purposes of editing and review. The power of AI gives insurance brokers the newfound ability to digitally compare two dissimilar documents, like comparing a binder vs. a new policy or an existing policy vs. a new policy. A policy and a binder are two differently structured documents that are often very different in length, for example, a binder can be 7 to 10 pages and a policy can be greater than 70 pages. The challenge with redline technology it does not provide the versatility to compare two different types of documents that have varying lengths and/or different formats.
However, an AI-enabled policy checking solution is able to read and render a 100-page policy and a 10-page binder to find the exact pages where the information you want to check resides within each document and it will automatically color-code the information in the binder and the policy to indicate whether or not the information is accurate. For example, it will compare the insured's address in the new policy vs. the existing policy or the binder, and if the street address or zip code are wrong, it will color-code the errors on-screen in red, if its correct, then it will color-code the information in green. Basically, the solution compares the information in the documents against the checklist to quickly and easily identify potential errors or omissions that need to be addressed prior to policy issuance.
Another benefit of AI-enabled policy checking is the solution will automatically highlight all of the pages in a policy including endorsements where the policy number is indicated, so rather than having to manually comb or scroll through hundreds of pages on-screen to verify the policy number or other information is correct, the solution highlights to the user the pages that contain the information, saving hours and hours of manual policy review time.
Watch the video explaining how automated policy checking works
Beyond ROI AI Delivers Additional Value
With the emergence of AI and ML, insurance companies are realizing the various business benefits of partnering with AI vendors to deploy AI solutions to combat issues like:
SaaS-based vs. On-Prem, when unplanned events call for all employees to work from home, SaaS-based AI solutions enable workers to easily access solutions without the need for staff to be in the office maintaining on-premise solutions. The cloud boosts operational capacity and provides the flexibility and scalability needed during times of crisis.
Attracting and retaining new talent in the face of an aging workforce. According to a recent article in

Insurance Journal

, "Almost half of insurance industry professionals are over age 45, with 25% of the industry expected to retire by 2018. What's more, there will be 400,000 open positions by 2020."
Accomplish the right combination of art and science, human and machine to boost employee satisfaction by enabling skilled underwriters to focus on their expertise and judgement to assess risk and deliver strategic value.
Accelerate the quote-to-bind process by automatically checking an application, submission, existing policy, quote and even a binder against a policy – in seconds.
Enable straight-through processing to reduce the mind-numbing administrative tasks and the time it takes to underwrite a policy. Refine operational efficiencies, significantly improve transaction times to capture more business, and optimize the customer experience.
With the emergence of Artificial Intelligence designed for commercial insurance carriers and brokers now have the opportunity to digitize and standardize underwriting processes in-house for better long-term ROI.
"Straight-through processing (STP) adoption is also growing, especially in small commercial lines (though many only have a small portion of business straight-through, even for companies with strong STP capabilities). Thirteen percent of small commercial lines carriers process more than half of their business straight-through, and 75% of mid-market carriers don't process any business straight-through," states Martina Conlon, EVP, Research & Consulting, Novarica
8 Reasons to Deploy a SaaS-based Purpose-Built AI Solution for Insurance Policy Checking
If increasing performance, boosting operational efficiency, and embracing automation are key goals for your organization here are eight reasons why deploying an Artificial Intelligence and Machine Learning solution could be right for your organization.
Automate and Standardize the policy checking process. Eliminate the need for red pens and yellow highlighters. Compare new policies to existing policies, binders and other documents on screen to verify and validate policy language, coverage, and endorsements to accelerate the quote-to-bind process.
Leverage Data in downstream processes by deploying an AI solution that can extract, interpret and classify the data from unstructured insurance documents and automatically feed the data into other core systems to supporting other business processes and the ability to just do more. Today data re-keying can take 2 to 4 hours, with an AI solution purpose-built for commercial insurance this can be reduced to seconds. Significantly freeing up knowledge workers to focus on more strategic initiatives and accelerating downstream processes.
Boost Productivity and Reliability by empowering staff to automate manual underwriting processes you can expand your underwriting capacity by 50%. By applying automation for high volume, repetitive tasks like insurance policy checking, it reduces the reliance on human knowledge workers, boosting productivity levels, and optimizing operational efficiency.
Increase Revenue by accelerating broker and policyholder response times. Spend more time providing one-on-one customer advice.
Data Security policies and practices are in strict compliance to ensure that all data is completely secure and protected at all times.
Software-as-a-service model provides flexible pay as you go pricing and the ability to deploy quickly without the need for extensive costly infrastructure.
Scalable across all lines of business and geographies. Enabling the ability to validate and verify every policy quickly and efficiently rather than only spot checking a small percentage of policies heightening the risk of costly errors and omissions. Increase the trust with brokers and policyholders by delivering error-free policies.
Economical and more affordable over time. Enjoy significant cost and time savings based on policy volume and the experience that an AI platform designed for insurance has from reading millions of pages of insurance documents.
In Summary
Insurance brokers that apply NLP and ML based AI solutions purpose-built for insurance to automate their policy checking process will gain the flexibility of easily centralizing and standardizing the process across business units, accelerating response times, eliminating friction, fast tracking quote-to-bind, as well as leverage data assets and insights in other downstream processes.
Not convinced? Watch our 30-minute on-demand lunch & learn session, to see a short demo of AI-enabled policy checking in action.