2020 was a challenging year for the commercial insurance industry with multiple lines impacted by high demand, more frequent and more expensive claims, and low inventory of certain coverages available. D&O, commercial property, umbrella and liability were all impacted experiencing double-digit premium increases. Several factors contributed to the hard market including the steady increase in multi-million dollar claims from cybersecurity breaches and social movements.
According to results from The Council of Insurance Agents & Brokers' Q1 2021 Commercial Property/Casualty Market Index, premiums continued to rise in Q1 2021 across all-sized accounts, the average increase in premium prices was 10% in Q1 2021, the 14th consecutive quarter of increased prices, though down from the previous quarter increase of 10.7%, and down further from 11.7% in Q3 2020. Large accounts were most impacted, with an average increase of 12.9%.
Get our viewpoints delivered to you inbox
On this episode of the "AI Wisdom – Talking Innovation in Insurance" podcast, host Ron Glozman, CEO, Chisel AI speaks with Ken Crerar, President and CEO, The Council of Insurance Agents and Brokers (CIAB) about the impact of the hardening market, demand for business interruption and cyber insurance, and strategies that agents and brokers should adopt to capture new business opportunities in an unconventional and challenging insurance market.
The conversation deep dives into how the broker community is evolving to address new market demands, changing customer expectations, and the impact of technology and innovation. How companies are forming MGAs to offer more specialized solution to their clients, the rising use of captives and alternative risk transfer solutions as brokers look at innovative ways to address their customers' business needs.
"I always say that this is when brokers and agents shine because we're not talking about products. We're talking about solutions to risk and protecting our clients," said Ken Crerar, President and CEO, CIAB. "This is not about selling a toothbrush or a pen."
As Crerar points out, a broker needs to spend time with their client, understand the business they're in, understand the risks. They have to teach their client the new risks. Just think of what brokers are doing today around cyber risk.
Topics covered in this episode include:
Factors disrupting commercial auto
Industry trends impacting commercial lines
How innovation is influencing the broker ecosystem
The importance of having a customer focus
Creating a culture of innovation
To hear more of Ken Crerar's insights, click below to listen to the full episode (listening time: 40 minutes), or if you want to skim, read the transcript.

Full Transcript
Ron: Hello and welcome to "AI Wisdom – Talking Innovation in Insurance." On this podcast we talk to business and insurtech leaders about how artificial intelligence is transforming the way we buy and sell insurance. I am your host Ron Glozman, Founder and CEO of Chisel AI and a strong believer in the power of AI to help people work smart and enrich their lives. So, let us get into it.
As agents and brokers navigate a hardening P&C insurance market and continue to endure the impacts of the pandemic, how can they successfully embrace and nurture innovation under volatile circumstances and meet the growing digital demands of their customers? What does the future hold for agents and brokers in 2021 and beyond? And what new opportunities might be lurking right around the corner? I'm very pleased to have Ken Crerar, President and CEO of The Council of Insurance Agents & Brokers, join me today as we discuss strategies for nurturing innovation in a hardening commercial P&C market. Ken, thank you so much for joining us.
Ken: Thanks for having me, Ron. I appreciate it.
Ron: Before we jump into our main discussion, can you please introduce yourself?
Ken: Sure, I'd be happy to. The council has enjoyed a long history in this industry, more than 100 years. Our membership is made up of about 200 of the world's top commercial insurance and employee benefits brokerages. These firms are both U.S.-based and international organizations, and they all have an annual revenue of at least $10 million in revenue. And that's important because they're like-kind organizations. They annually place about 85% of U.S. commercial property, casualty insurance premiums, and administer billions of dollars in employee benefits accounts. Ron, before we get going, I'm wondering if it makes sense for you to describe a little bit because I'm a little slow on the uptake, and I want to make sure our listeners are understanding the technology that you all are bringing to the table during this innovative period. Can you describe your technology a little bit, so I have a better understanding of it? I've looked at the website, I understand it a little bit, but I want to make sure I have a complete understanding of it.
Ron: For sure. So, the easiest way for me to describe it would be to say that we teach computers how to read, and this started very quickly. About eight years ago, I was a student studying computer science and business, and I said to myself, "Textbooks just don't make sense. They are thousands of pages long, but you only get tested on a subset of it, like 10 or 20 pages, on the exam. What if I can teach a computer how to read and create summaries of my textbook so that I can just study one page for every chapter and then just study that?" So being a computer science student, I said, "Yeah, that seems pretty simple." I ended up building an app that could basically ingest a PDF or a Word doc and create a one-page chapter, one-page summary for every chapter in the book. Obviously, students had no discretionary income. So, this was just a hobby of mine until about 2016 when I was presenting at RBC's first machine learning conference, talking a little bit about this app and our ability to teach computers how to read when an audience member reached out and said, "Hey, I know this is an app for students, but I think insurance can really benefit. Do you have a couple minutes to chat?" It ended up being one of the biggest insurance brokerages in the world. They educated me on errors and omissions and a little bit about policy check and what they try to do to avoid errors and omissions. And now we've been in insurance for four years. We killed the app for students. That wasn't our main goal. Now, we're exclusively focused on insurance, and we have really two products, both focused around the goal of reading. One product called Policy Check helps primarily brokers, although some carriers as well, with the errors and omissions process. So, what we do is we ingest the binder, the policy, the quote, the emails, and the endorsements, everything that has been done from the day the request to the submission came into the day the final policy was issued plus any endorsements thereafter. And we compare them to make sure that there's no errors. That's one of them.
Ken: One question. Has it accelerated the binding of those documents? Often a client doesn't get the policy until long after the implementation date, and I'm just wondering whether this has accelerated it.
Ron: Correct. So, in our experience, you're 100% right, most of the time companies will say they want to get a 90-day turnaround, and without naming names, like, it's usually like 60 or so percent. My favorite story is one of our partners told me about a time where he called out one of their big seven-figure accounts to do a renewal, and he says, "Hey, let's go out for dinner," invited them to the restaurant they always meet at. They sit down. He goes, "All right. Jim, let's talk about the renewal." And Jim goes, "We'll talk about the renewal when I get last year's policy." That's one example of sort of the worst-case where the policy is literally up for renewal. It's been 365 days, and the client never saw the policy itself. So, that's definitely something we're trying to tackle. What we've been able to do is reduce the time that it takes to check a policy down to about 30 minutes or less. As you know, today it can take days on a very complex policy, and even on a non-complex one, it takes hours. We're talking minutes with our solution.
Ken: That's great. That's very interesting, and really, it shows one example of the kind of tools that have been put in place to enhance the business, and it's really innovative. So, using technology, not as a final solution, but as part of a process, which is great. So, thanks for that. I appreciate it.
Ron: So just to touch briefly on the second one that we have today in the market, it's primarily focused on the carrier side of the business. So, as you know, brokers and agents send hundreds, thousands, tens of thousands of submissions every day, and the carriers have whole teams of people who just do ingestion, clearance and registration, routing, and quoting, people whose full-time job is to read, analyze, and input data. And that's, again, where we come in. We have the ability to integrate into an email inbox or a portal. As soon as a submission comes in, within a matter of seconds, we're able to read all of the attachments up to...we've seen 36 attachments on a single submission, extract hundreds of data points as long as they're present, and then populate that into all of the systems, clearance and registration, CRM, quoting, routing, whatever they need, literally within minutes of that submission coming in. Today, as you know, the average backlog is three to five days before an agent ever gets to a submission that's come in through a portal or an email.
Ken: Well, and considering what's happening in the market today, this is so important to expedite that kind of response. So, I'm really excited about the technology. So, one question I always have when I'm listening about new technologies, we always talk about shiny new things. Brokers love shiny new things, by the way. What's wrong with it? What doesn't the technology do that you wish it did?
Ron: It's interesting. I mean knock on wood I have a pretty good understanding. So, in some sense, I don't see it. I'll maybe dispel some of the common misconceptions that people have. So, you hit on one earlier, which is AI is a job killer. I think it depends on the industry, and it's a complex subject that we could spend a whole podcast episode discussing. But at least the way we go about implementing AI, we have what's called a human-in-the-loop. Our goal is to help the human get the job done faster and more accurately. It will never replace the human because...the value that the brokers bring is that human touch, that interaction. Being able to read data is not differentiating you. Every human can read. Knock on wood, we have a pretty good education system. It's really that relationship building, the nurturing, the understanding of the client needs that no machine will ever replace. So, I just want to get that very clear. AI should not be seen as a job killer. It should be seen as a way to actually get your job done faster and easier. All the brokers I know are some of the hardest working people, and the crazy thing is that they work like 12 hours a day. Don't get me wrong, working 12 hours a day is admirable, but I'd also love for those people to be able to go home at a reasonable hour, have dinner with their loved ones, spend time with their kids, or whatever they wish to do, rather than having to go on work just to do reading, which is something that a machine can do much better and faster.
I think the other thing is that a lot of people think of AI as like an end-all-be-all general solution, meaning that it can solve all problems, but that's very far from the reality. We don't have general AI. Our machines can only read insurance documents. If you were to give them medical documents, it wouldn't work. I would call it more like surgery, which is if you can solve the problem in any other way, like if you can diet, if you can go run, if you can exercise, if you can change your calorie intake. There are a million different ways to solve a problem, and surgery to me is the sort of ultimate one. It's the most risky, the most complex, and the most undefined. Artificial intelligence is very similar in the sense that it's a large investment. It doesn't solve all problems. There are oftentimes solutions that are better fitted, but it can save a life. So, when it comes time to it, there are certain problems that machine is better suited and artificial intelligence is better suited, but I would say 90% of the time it's not needed.
Ken: It's fascinating because it just highlights the fact that the important part of what a broker does, unfortunately, in some ways, it's about the contract. It's about the contract between two parties, the client and the carrier or whoever is putting their capital up, the solution basically. And what that language is...and that language is important.
By using AI, it always has struck me as it allows a broker to do more of what they should be doing, which is understanding and advising their client on what the best solutions are.
I applaud what you're doing, and we're excited that you're in the space.
Ron: Thank you. We love what you guys do. Obviously, brokers and agents are the people that we want to help make their lives better. That's really our goal here. So, I'd love to dive right in and ask you for a little bit of context. You guys published a wonderful report in Q3 of last year 2020, which talked a little bit about evidence in the market, pointing to hardening. It was apparent premiums increased by approximately 11.7% on average across all account sizes, marking the 12th consecutive quarter of increased growth. What do you predict for 2021? Is there evidence that this will continue? Will P&C lines be the hardest hit? What are some of your thoughts?
Ken: Let me start with Q4 of 2020. Our survey showed that the market continued to harden slightly in comparison to Q3 with respondents reporting an average increase of 10.7% across all sized accounts. Let's look at it a little bit individually. By sector, umbrella, D&O, liability, and commercial property were the hardest hit. All experienced double-digit premium increases with umbrellas experiencing more than a 20% increase compared to the previous quarter. Premium increases for D&O and umbrella can be attributed to several factors. One of those is a steady increase in claims and multi-million-dollar verdicts from events like cybersecurity breaches or the Me-Too movement. Think about the settlements that have happened with, I think, it's the boy scouts and some of the more significant settlements that have happened. Obviously, as the experiences increase, and we see claims increases, we're going to see pricing increase.
It's worth noting that the market is stabilizing after more than a decade of steady rate declines and hardening in some sectors, including healthcare and tech, previously underpriced. There's trouble for commercial auto also, although commercial auto is an interesting example right now because, in Q4, it should be noted there was...actually experienced a momentary decrease in premiums, obviously because of COVID and the lack of traffic happening.
The technology that's being placed in cars is causing the replacement of those cars and those vehicles. The sensors, etc., are all adding to the costs of the claims and significantly to the point where we're seeing real increases there, or it's a tough market.
We are seeing underwriting capacity continue to contract for troubled lines. Nearly 90% of respondents reported a decrease in capacity for umbrella with more than half of those declaring the decrease significant. Respondents indicated that COVID-19 pandemic impact was still being felt in Q4. Most respondents said that the pandemic impacted pricing, availability of coverage, renewals, and underwriting trends. We're continuing to see what I would call a firming of the market, although that's based on the trends that have happened the last few quarters or 13 quarters for that matter. We do not make projections as a matter of practice, and you can see the last year has been a good example of why. We can tell you based on the industry trends that overall capacity is reducing, and pricing has been under a lot of pressure.
Ron: I think that's some wonderful insight, and I'm sure that our listeners either can relate to that due to their own personal experience or are on the flip side and seeing that themselves. I'm curious, what are some of the strategies you've either seen people adapt and deploy or ones that you would recommend that they adapt and deploy to try and weather the hardening market?
Ken: This is not the first hardened market that most brokers have been through. I will tell you that there are some people in the business that are newer that have never sold in a hardening market. They've only sold price down, not up. We're in a different kind of market now. I always say that this is when brokers and agents shine because we're not talking about products. We're talking about solutions to risk and protecting our clients. So, you see things like companies forming MGAs to offer more specialized solution to their clients. You see the use of captives. Again, basically, a semi self-insurance mechanism where the client owns part of the business. Those are all innovative solutions that really are at the core of what brokers do, which is... I always chuckle a little bit because this is not about selling a toothbrush or a pen. We are selling solutions to people's problems, and this forces us to understand those businesses better with more depth and more understanding. So, you see lots of uses of captives and alternative risk transfer solutions, which is really important as we look at innovation.
Ron: So, speaking of innovation, have you witnessed any changes as far as the pace of innovation, both in terms of adoption as well as sort of openness? Are you seeing people more open inside the CIAB community? And how are they actually adopting it?
Ken: Sure. I think there's been one very significant sea change of attitude towards technology. In the past, technology was a panacea. It was like, "I'm going to do this, and it's going to make everything better." Technology is only a tool. It doesn't replace what we do. The tools that are coming up, like your tool, take a specific process that's internal and improve it, make it better so that we can then focus on talking to our client rather than worrying about whether the language is appropriate, or the policy reflects what we sold them. I think that what's happened is, is because of this sea change of attitude towards technology as a tool rather than a panacea or a business solution or a business strategy, what's happened is it has moved along faster.
COVID has taken what might have taken, I don't know, maybe five years to implement and moved us along into five months.
People started looking at things that were solutions. I mean, look at the working from home. Working from home, for example, has changed a lot of employee-benefits-related things about workers' comp, about all of those areas that people are having to be much more innovative about, and it's also about the technology, the cyber risks, etc. So, I think this has been...there's a lot here. We have a number of members who've created broker tech ventures, which is an independent incubator for early-stage investors. They work hand in hand with brokers and the insurtechs to make sure that we're driving the right innovation and technology tools in the industry. Their business operations... I was really impressed with our members' ability to pivot and serve their clients during this really rough period. So, I think this is a very exciting period of time for brokers because brokers...the one thing I will say is that brokers have never stayed the same. A broker 20 years ago and a broker today do very different things, and a broker 10 years from now will do something very different. I don't know what it is. They're part of an ecosystem, and they have to respond to that ecosystem. So, it's exciting.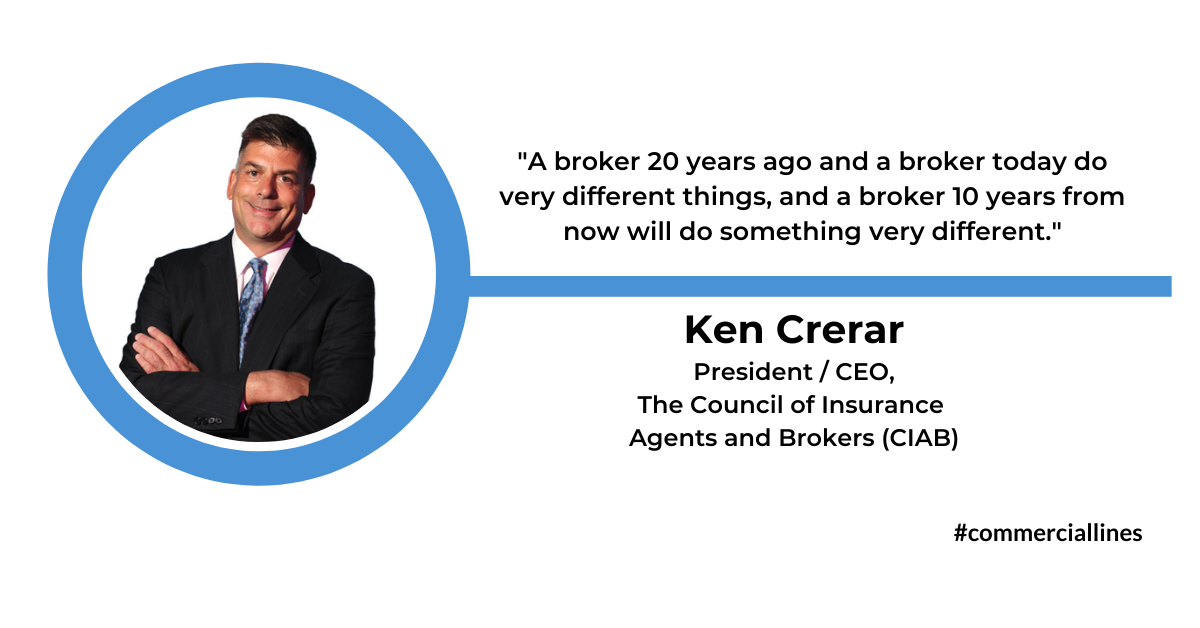 Ron: I love that. I can just tell the passion that you have, and exciting is definitely the right word. So, what are some of the actual capabilities that you're seeing agents and brokers investing in right now? I know a lot. There's things that you can do on the claims side, and there's things that you can do like what we talked about with policy issuance and contract certainty, and you can do things on the pre-quote and pre-bind, like how do you drive more business. What are some of the specific capabilities you see people investing in right now?
Ken: Well, first of all, I think people are really looking hard at solutions that clients want. Does a client really care that there's a policy check process in place? Not really. That's the back room. Back room's important to our members and to brokers, but it's not that important to the client. Who cares how the sausage is made, as I always say? This has got to be client-driven, and that's a huge component of what, I think, people are investing in. Sure, they're investing in digitization. That's important, but what do clients want? They want to have access to the coverages. They want to see them in place. They want to know what their limits are. They will tell us what we should or shouldn't invest in. The investments that are the backroom investments, there's a lot of that going on, and that's a really positive thing because this industry has always processed the way it does things in a certain way for certain reasons that don't make any sense sometimes, or they made sense at one point, but they don't anymore. At the end of the day, what does a broker need to do?
A broker needs to spend time with their client, understand the business they're in, understand the risks. They have to teach their client the new risks. I mean, just think of what brokers are doing today around cyber risk. They are not providing products. They're providing solutions to new businesses. Who would have thought about the number of cyber risks that would have occurred because people are working from home, and they're looking at their screens, and you don't have a technology, your IT people aren't down the hall, and people are phishing, all those things? Those are all significant cyber risks to a system, but you don't do that by just putting it out there. You do that by teaching people. This is an industry that spends a lot of time really learning about each other and then working with their clients as they expand the needs for alternative risk mechanisms. So, I'm really excited about that. I think this pandemic has really been a huge catalyst for a lot of the spending that we're seeing, and it's because they've had the resources. The resources are there because people aren't traveling as much. It's a reallocation of resources. I do think that we're going to see hybrid systems. We're going to see more online sales versus in-person sales because we can have the same kind of rich interactions, and we accept them. There's so much going on, but this has all got to be driven from the client.
The client is really the most important piece of this, and how we interact with our clients is going to be determined by them and what they want.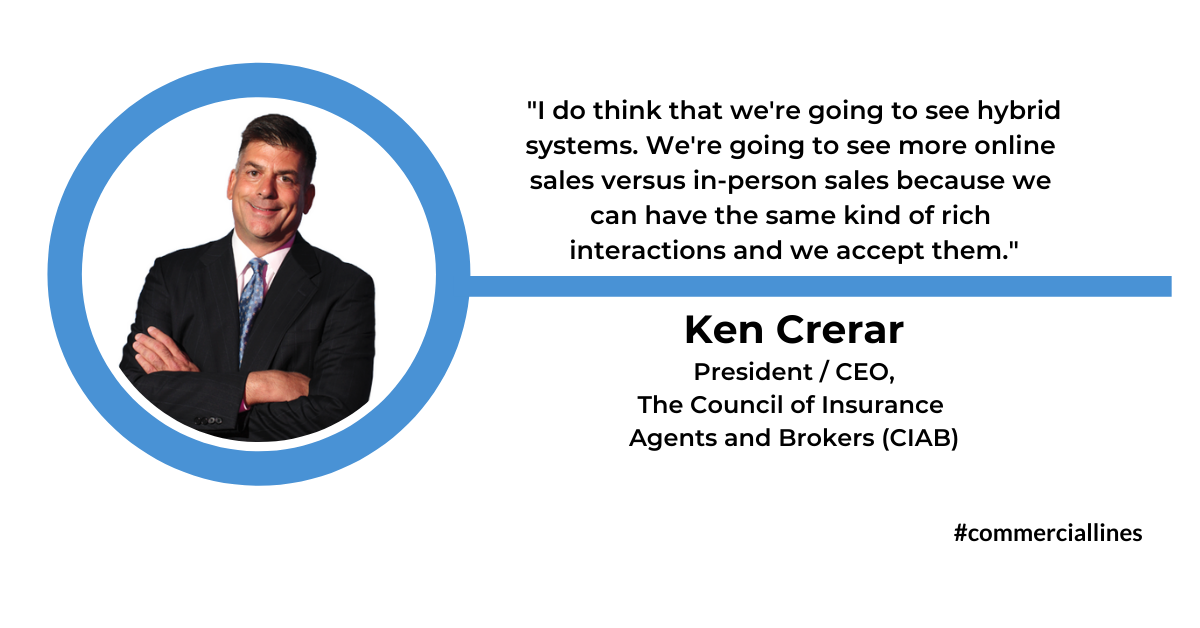 Ron: I think you hit the nail on the head there. I recently learned that there's more to it. It's like the customer is always right is what most people say, but it's the customer's always right in matters of taste is what I recently came to find out. So, let's go now to the flip side and talk a little bit about some of the pitfalls because, as I touched on earlier a little bit, technology is great. And I was talking more about artificial intelligence at the time, but there's always pitfalls, and there's always downsides. So, what are the pitfalls that you're seeing? What are the struggles, and how can they be avoided?
Ken: So, people often lead with solutions. They see a shiny object. They rush to adopt the new tool without ensuring that it'll eliminate or even alleviate some pain points for their clients. Clients don't care how the sausage is made. They're focused on their experience. So, for example, if you invest in technology that cuts out some manual process such as your policy is delivered faster to your client, and you save time, then it's a win for everyone. If it's saving you time but your client isn't feeling any benefit, it's not worth spending more time to evaluate the need. Just do it. Do what you need to do for your process. But at the end of the day, I think that there's a lot of pitfalls here, but it's really a change in attitude. The attitude is that technology is a tool rather than an ultimate solution.
Ron: I think that's right. I think solution is definitely what people strive for, but there's many ways to achieve that. So, working through what you think will be the biggest impact for you, the customer, the win-win scenario that you talked about, is definitely the right way to think about this. So, we're going to take a quick 20-second break to tell you where you can find more information and insights about insurance innovation. We'll be right back.
[If you liked this episode of AI Wisdom, subscribe to our blog, Writing the Future: AI in Commercial Insurance at www.chisel.ai/blog for feature articles, interviews, opinions, and more.]
We're back with our featured guest. Let's jump right into the next question. What are your recommendations for brokers who are struggling with change and implementing new technologies and business models?
Ken: Well, Ron, I think the last year has really raised the issue of change is really hard, and it's hard for any organization. It's difficult. We're human beings, and we don't like change that much. But I think you have to establish a culture of change. Change shouldn't be scary. It should be positive and exciting. But for brokers, there are so many players involved. I referenced that ecosystem. They're working with carriers, with business owners, sometimes with other intermediaries, with technology providers. There's just so many different solutions, and they're in the middle. They're the ones that have to sort of adapt to whatever's going on. So, my advice would be don't try to do everything. Adapt your culture to ensure that it likes change, and I think you change it up yourself. You have to lead through change. That's really important. If you're reviewing the difference between an old policy and a new policy, and it takes too long during renewals, this leaves you insufficient time to advise your client, you know what you should be doing. I mean, we all kind of realize what the change is necessary. Sometimes we're just reluctant to do it. Take the risk. What's the worst thing that can happen? You fail. And if you fail, let's hope you didn't lose a whole lot of money, but you stand up, and you start over again. And that's what's really important. That's the core of implementing new technologies.
Ron: I love that. You hit on so many important points there. You talked about leadership, and I definitely think leading through change is important because change management... Two things. Humans are wonderful. One of our main distinctions as a species is our ability to adapt. The other one is that we hate adapting. Humans hate change, and so it's an oxymoron that we're so good at it. I agree. Take the leap. As you said, hopefully, you take a leap that's a calculated risk such that you still have a backup plan, and you're not putting your company or your business at risk. But taking that leap is definitely worth it.
Ken: And leading in that environment is really challenging. As individuals/humans, we like to be led, but we like to be given the ability to put our own little spin on it. So, it's a combination of the two, but it's really hard. I have empathy for anybody out there who's trying to lead during a really changing environment. The last year has been extraordinarily challenging for anybody who is trying to lead. It's been judgmental. It's hard. But you know what? The reverse is worse. No leadership is worse. I mean, that's when you see organizations fall apart. Our organizations aren't falling apart, and they're embracing the technology and the change, and we hope more of them do it.
Ron: So, I'd love to pick your brain on a topic. We've had a couple guests on the show recently that have talked about the increase in awareness for cybersecurity and even more recently CNA had some issues, and I believe there was another one even more recently than that. We would love to hear your thoughts on how CIAB members are capitalizing on the business opportunity that cyber represents.
Ken: Let me start out by saying cyber is definitely not new. Okay? It's a new challenge for our clients. It's a scary risk that our clients are taking, and we're just responding to what they're asking for. Brokers are hiring cyber talent from outside the industry. They're bundling coverages. Some of the MGAs are offering automated cyber response systems with cyber coverage. But we're talking about an ecosystem here, and so the threat's significant. And the difference is, is we used to segment cyber into one category. When you look at 10 years ago or 5 years ago even, when you thought of cyber risks, you thought of people who held data or lots of data that was personal. So, you thought of credit card companies and banks and things like that. Now, we realize that so many people have data and there's so many access points to this system because it's sort of a large ecosystem of everybody. So, I think the industry is responding in the way it always responds when there's a new emerging risk and challenge for businesses, and that is it's coming up with coverages. Frankly, it's scary. It's scary to the industry, it's scary to the clients because it's a really unbelievably large threat, which we really not sure we've got our arms around, but people are trying. And that's what's exciting about this industry. This industry responds to the innovation in the marketplace, and that's what's happening.
Ron: I think that is a perfect segment into the next thing I wanted to talk to you about, which was the new market dynamics, which are creating opportunities, as well as new risk coverages that brokers are adding to their portfolio. What are some of the ones that you're seeing aside from cyber?
Ken: Well, Ron, it's funny. Everyone always talks about, "So what's being added to the industry? What's the industry? Where is it moving the innovation?" This industry as brokers has for this insurance industry always been the entree to innovation. My favorite story and I tell this story all the time. A few years back, we all know that there was a bed bug invasion. It was happening at hotels from five-star hotels to one-star hotels to no motels. A broker came up with an innovation of creating a policy coverage that not only covered the hotel for the loss of revenue from that room or two rooms, or whatever they had to do, but it also gave them a mitigation plan, and it also gave them a communications plan on how to get through the challenge. To me, that's about the best example of where innovation starts in this industry. It starts with brokers.
So, if somebody's going to go make an investment in Venezuela or make an investment in India today, what do they need? They need insurance. They need some kind of insurance, and that's where brokers come in. So, we are the source of innovation in the industry. It's not coming from other places. The reality is that it's not about products. It's about solutions. So, there's a bed bug product, but that's a bed bug solution for a hospitality company. And that's really to me exciting. I would just say to you that we are always responding to the marketplace. Tomorrow, we may have...the Mars helicopter may become an issue, and we need to insure it. The one that's up there is insured already. Somebody's got a piece of that, and that wouldn't have happened without that. I'm really excited about the level of innovation in the brokerage sector and how we respond – we are the innovators for the industry.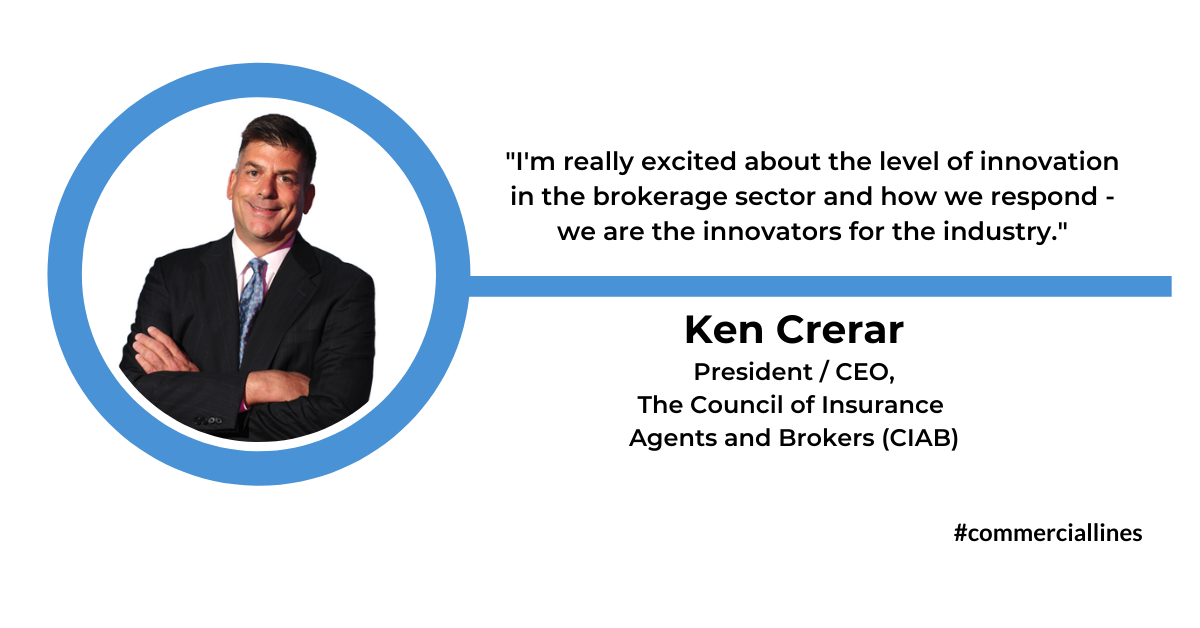 Ron: That is such a powerful story. I think that broker hopefully was able to capitalize on that because that's such a smart product offering. It's a solution to a very specific problem the hospitality industry had.
Ken: Absolutely. And you think about all the innovation that's happening today. We have virtual reality glasses. We have SpaceX. We have Virgin Orbit. We have all these things going on. How exciting. But those things don't happen without some broker figuring out how to cover some of that risk so that those companies are around, and those people are not hurt.
Ron: The product sort of sounded like a little bit of a business interruption insurance type product covering the lost revenue from those one to two rooms, for example, during the period of closure. Obviously, business interruption has been in the headlines everywhere in the wake of COVID-19. How are you seeing CIAB members in terms of the demand for BI insurance, and what do you think is going to happen throughout 2021 and beyond?
Ken: Well, again, it's really hard for me to make predictions, so I don't want to. But I will say to you that everything's an opportunity, and COVID has been an opportunity for the industry because clients need information. Really, they need high-quality information about what's going on, and what they can do, and what they can't do. So, in that process, we provide the coverages or the solutions that they need, whether it's BI or some other coverage. I think, overall, what this has done is it's provided an opportunity for people to advise and counsel their clients better and in a much stronger way than they have in the past, and people are open to it. It's not them just trying to sell them something.
Ron: I think that's the most important. I think people have to be open to it because, otherwise, this doesn't really work. I know you're not a big fan of making predictions, but I do want to ask if you can...to look out 5 to 10 years in the future in terms of the role for the broker. Do you have any gut feelings on how it's going to change?
Ken: I think the role of the broker continues to be incredibly strong. If you can tell me what the fashion industry, the sports industry, the travel industry, any of those look like in 5 or 10 years, I'll tell you what the broker looks like. But you can't tell me that, and I can't tell you that because we don't know. We're almost a responsive component of the industries we serve. Think about transportation alone. I don't know what a broker is going to be doing in five years from now. But if cars are going to drive themselves, it changes the whole dynamic of the risk that's involved. So now, all of a sudden, you've got coverages for product liability. You've got individual coverages. What happens when certain things happen? It's hard to predict. So, this is one of those that, not only can I not predict, but I wouldn't predict because nobody knows what the future looks like. I will tell you that if we start going to Mars and people start buying tickets, it's going to mean a different kind of insurance, but those people are going to want coverages of some sort. And I don't know what that means. We're going to be a very different-looking group of people. And if you think back 25 years ago on what a broker did and what a broker does today, they're very different because the industries they serve are all different.
Ron: Yeah. I wish I could predict where those other industries are going to be in 5 to 10 years, but I think that's the beauty of being human, is that we're all in this together, and nobody really knows where we're going to be. But, like you said, I think changing with the times, staying up to date, you know, going with the flow, rolling with the punches, all of that is what differentiates people who succeed and don't because, if you're stagnant in some sense, you're going backwards because time moves forwards, and so it's going to leave you behind if you're not staying up.
Ken: Absolutely.
Ron: So, as we wrap up, is there one piece of wisdom that you'd like to share with our listeners?
Ken: Yes. Look, I've talked about it's all about change, it's all about...you're changing clients, what their needs are. And at the end of the day, all the ideas in this industry, all the innovation in this industry comes from people. And it's different kinds of people. And at the end of the day, you've got...good ideas come from people's brains. If you're sitting around the table with 10 other people who look and act and think similar to you, it's pretty hard to innovate. I would urge people to take a look at their organizations. Do you have people with different professional and ethnic backgrounds? Do you have neurodiverse talent? We've been talking a little bit about neurodiversity, which is nothing more than people learn differently, and people have different interests. They may not be the same as yours, but they may respond to a client differently than you do, and that may be a positive. I would urge it is about the people, and that's not to say that individuals who've been in your industry for 30 years are any less valuable to the process. But everybody brings something to this table, and everyone is important in this process. And whether they look different, act different, learn different, or respond differently, it's all good. It's the people who don't try that's a real problem, or they give up because they have no place to go within your organizations. So, embrace the change, embrace the change in people.
It's a really, really exciting time in the brokerage business because there's so many opportunities for change and so many opportunities for clients who need good advice and counsel.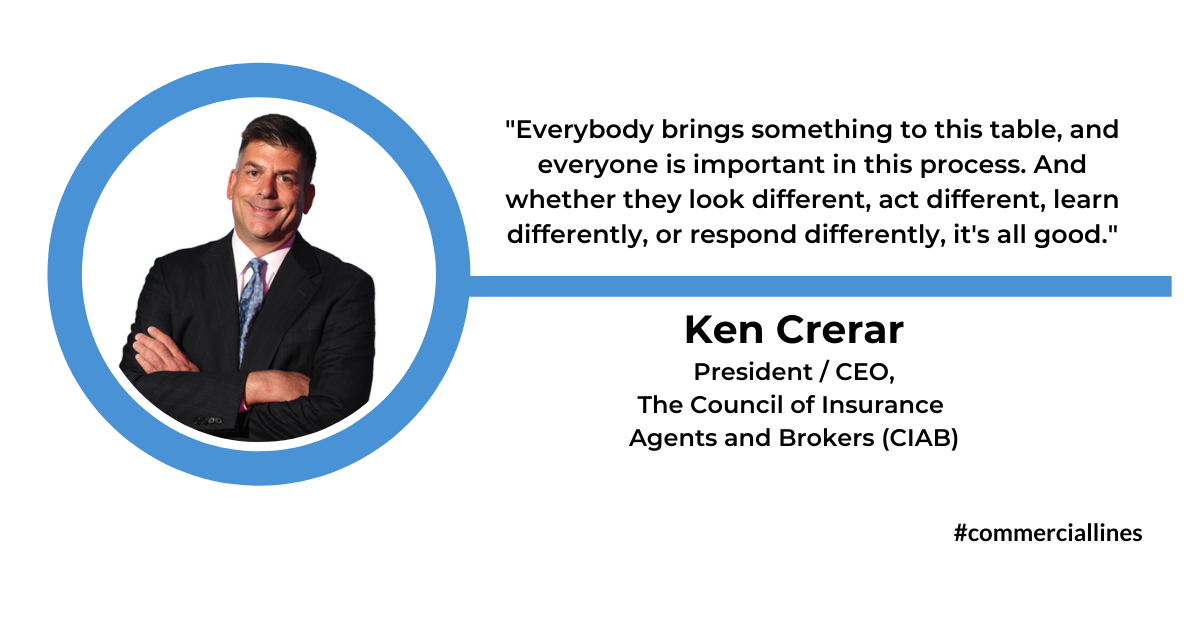 Ron: That's such a powerful message, I think, that will resonate with a lot of our listeners. I think that should inspire people to keep going. So, having said that, where can people find out more about you and the council?
Ken: So, if you want to find out more about the council, go to ciab.com and click on "Leader's Edge." "Leader's Edge" is our magazine, which is a leading magazine around the issues that are affecting the industry. It's not about the association. It's about insurance brokers and their business and their lives actually. Then the other one is if you're happy, you're more than welcome to check me out on linkedin.com. I'm an easy guy. I've been doing this a while. I've watched this industry a long time, and I'm really excited about where it is right now.
Ron: Awesome. I hope people take you up on that. And as always, if you want to find out more, you can follow us at @chisel.ai. You can follow me @RonGlozman. Check us out on LinkedIn and as always www.chisel.ai for all of the blogs and podcasts. Have a great day.
That's a wrap for this episode of "AI Wisdom" hosted by Chisel AI and me, Ron Glozman. Thanks for listening.
If you like our podcast and want to hear more, check us out at www.chisel.ai or tune in and subscribe wherever you get your podcasts: SoundCloud, Spotify, iTunes, Google Podcast, or Stitcher.
Join us next time for more expert insights and straight talk on how AI and insurtech innovations are transforming the insurance value chain. See you on the next episode!