A Broker's Guide to AI-Powered Policy Checking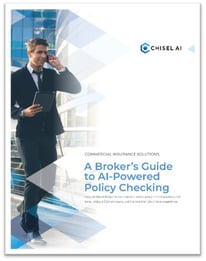 Cost reduction, customer centricity, and growth are urgent priorities for P&C insurance brokers, but outdated processes like manually checking policies for quality and completeness of coverage prior to issuance continue to stand in the way.
Customers expect high quality, error-free policies, but errors and omissions like missing endorsements, incorrect limits, and premium shortfalls are all too common.
Download the guide to learn how you can use artificial intelligence to accelerate policy checking turnaround times, reduce E&O exposure, and improve the policyholder experience.
What's Inside
In this guide, we discuss how AI-powered policy checking can help you:
Automatically identify errors and omissions in minutes
Digitally compare a new policy against an existing policy, quote and binder
Reduce policy checking costs by up to 80%
Win trust and loyalty through contract certainty
Save millions in potential E&O exposure annually
Complete the form to download your complimentary copy of the Broker's Guide to AI-Powered Policy Checking.