Underwriting Priorities 2021 & Beyond: The Digital Evolution of Commercial Insurance
Featuring contributions from CNA, Strategy Meets Action, Vouch Insurance, Zurich North America, and many others, our second annual Underwriting Priorities eBook brings together expert insights on the digital evolution of commercial lines underwriting.
Commercial insurers face mounting market pressures including the lingering effects of COVID-19 and rising policyholder expectations for a touchless, "Amazon-like" digital insurance experience. Not only is the pace of digital transformation accelerating, but the gap between digital underwriting leaders and laggards is widening.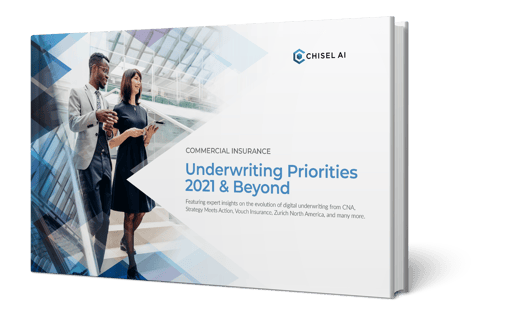 Download the 40-page eBook for a look into the future of digital underwriting.
Fourteen insurance industry leaders share their viewpoints on the key priorities for commercial insurance underwriting in the coming years and provide practical recommendations for implementing meaningful digital transformation. Hear where leading P&C insurance carriers are focusing their digitization efforts to improve the policyholder experience and meet their time to revenue, growth and profitability goals.
Complete the form to download your complimentary copy of the eBook today.