Buyer's Guide & Worksheet:
How to Choose an AI Solution for Commercial Insurance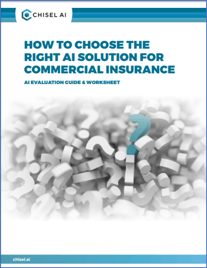 Almost every day it seems a new artificial intelligence solution bursts on to the scene. It can be tough to steer a course through the hype and evaluate the strengths and weaknesses of the countless AI solutions available.
The sheer number of AI solutions can cause 'analysis paralysis.' Innovation and buying teams suffer from information overload and struggle to separate fact from fiction when it comes to the claims of insurtechs and AI solution providers.
This guide and the accompanying evaluation worksheet in Excel will help you identify the key considerations when assessing AI solutions for commercial insurance:
Questions to ask AI solution providers
What to look for in an AI solution for insurance
Insurance-specific "must-haves"
Complete the form to access your complimentary copy of the Insurance AI Buyer's Guide and Worksheet today to identify and compare AI capabilities and navigate your technology selection process.