Subscribe to our blog today
To receive one monthly email digest containing published blog posts to stay up-to-date on the latest insights and trends in commercial insurance.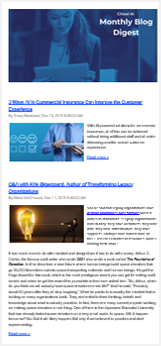 Hear how Artificial Intelligence, Natural Language Processing and Machine Learning are changing the way underwriters and brokers work.
We share expert commentary and viewpoints on topics that matter to insurers – from digital transformation to change management best practices and proven tactics to attract the next generation of talent.
Topics and features include:
Q&A with key industry leaders and influencers
Real-world AI – use cases and benefits of AI in insurance
Future predictions and priorities for the AI-enabled underwriter
AI-powered risk management tactics and techniques
The future of commercial insurance
Modernization and cost optimization
Complete the Form to Subscribe by Email Today.